Prejudice is a peculiar emotion,
The product of bitterness, pain, or devotion.
No one is born with it right from the start,
And no one desires it deep in their heart.
And yet it takes hold and is likely to grow
Through dubious facts people think that they know:
A rumor that no one can track to its source,
An outrage that should have long since run its course,
A fact or a fiction passed on by those who
Just don't care enough to find out if it's true.
It's no surprise then, in this world of pretense,
That people believe things that strain common sense.
And once it digs deep, 'tis not easy to loose,
For bias breeds bias in search of excuse.
Don't think it's impossible, though, to break free
Of such silly cycles that plague history.
It takes a rare person, both brave and sincere,
To listen to someone they don't want to hear.
__________________________
MPAA rating: PG-13
I was skeptical when I first saw the trailer for Taika Waititi's latest film Jojo Rabbit, what with its jokey Nazi satire. Waititi's humor has been hit-and-miss for me with films like Thor: Ragnarok, so I wasn't sure exactly what to expect. Luckily, I'm pleased to report that Jojo Rabbit is easily my new favorite of his movies, a triple threat of humor, heart, and pathos that didn't disappoint at all.
Set in the latter days of World War II, Jojo Rabbit follows young Jojo (Roman Griffin Davis), a devoted young boy who is excited to go to a Nazi youth training camp, with the encouragement of his imaginary friend Adolf Hitler (Waititi himself). After an accident, Jojo is forced to stick close to home, where he discovers that his mother (Scarlett Johansson) has been hiding a teenage Jewish girl named Elsa (Thomasin McKenzie of Leave No Trace) in their house, prompting him to reconsider his preconceived prejudices.
It may sound like a cliché, but this movie is one of those rare full-package films: you'll laugh, you'll feel your heart break, you'll hold your breath at tense moments. The amazing thing is that there are scenes where all three happen in quick succession. Waititi's sense of humor can be an acquired taste, but here he brilliantly plays up the absurdity of Nazism, from the blind loyalty to the exaggerated picture of Jews promoted by Jojo's training officers (including Sam Rockwell as a washed-up soldier and Rebel Wilson as a gung-ho instructor). He even manages to make the repeated use of "Heil Hitler" increasingly hilarious.
Yet, unlike the similar irreverence of The Producers, the comedy isn't just for shock value laughs, instead being accompanied by some surprisingly profound statements challenging how Jojo sees the world, Jews, and himself. Young Davis does a wonderful job as Jojo, both as a naïve Nazi boy scout and a more world-weary doubter later on, and McKenzie brings a ferocious defiance to Elsa, bitter to the cruel world and far from the shrinking victim she could have been. Likewise, Johansson exudes warmth and good humor in her maternal role, and she finally gets to hit Sam Rockwell, where she never got the chance in Iron Man 2. And as for Waititi, he really hams it up as the imaginary Hitler, acting as Jojo's friendly shoulder devil as the boy deals with Elsa and bristling at the wavering of Jojo's loyalty.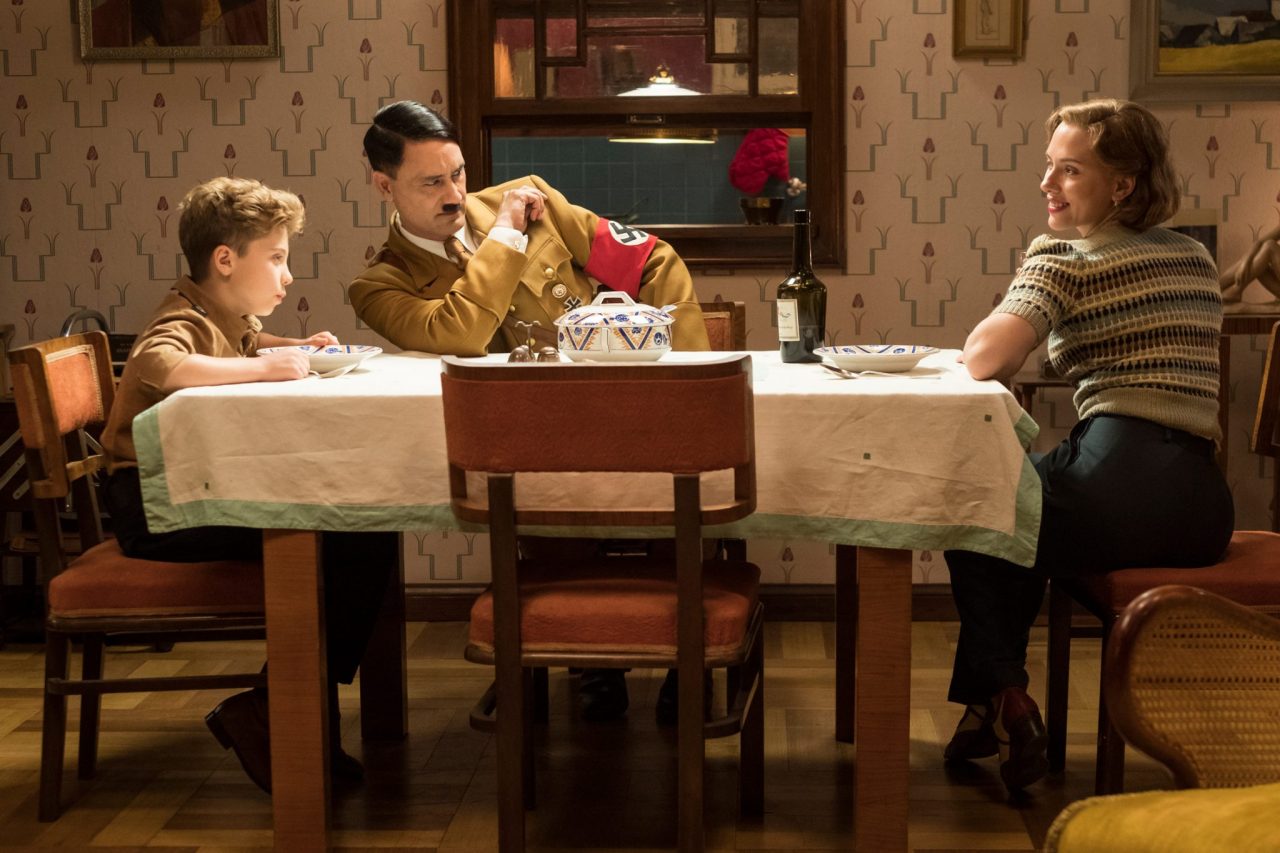 It's not often I say this, but Jojo Rabbit really felt to me like an instant classic, a perfect blend of irreverent tragicomedy that confidently overcomes its own weirdness to be both memorably entertaining and affecting. I loved the bright, meticulous set design, sometimes reminding me of a less pedantic Wes Anderson movie, and a spinning tracking shot over time echoed a similarly impressive scene from Waititi's Hunt for the Wilderpeople. The film's main fault for me was some unnecessary profanity, but otherwise, it's definitely one of the best movies I've seen this year and further cements Taika Waititi as a filmmaker of unique vision, which just happens to include Hitler eating a unicorn.
Rank: List-Worthy
© 2019 S.G. Liput
653 Followers and Counting