It's hard to believe that yet another year has passed. It's even harder to believe that I've been blogging for four years now, ever since my trusty Viewing Companion (VC) suggested I combine my love for movies and poetry with a Top 365 film countdown. Plus it helped to keep my mind off my hot dog business that had just gone kaput. Since then, I've published 825 posts before this one and earned 526 followers, for which I am very grateful. I'm glad to have started this blog simply to make friends in the blogging community and to learn of countless new movies through them. And I just find blogging to be such an enjoyable creative outlet for whatever you're passionate about, as long as you don't overcommit yourself. Not that I would ever do such a thing. 😛
With all the natural disasters and celebrity scandals, it's hard to say whether 2017 was any better than 2016, but at least we were able to escape the tragedy through the movies. For one thing, I reached 500 followers earlier this year, which is a big milestone for me. This was also the first year that I watched twelve Blindspot picks, one for each month, and while I'll rank them a little later, two ended up in my top twelve for the year. And as a certified list-fanatic, I always look forward to the end-of-year lists, including my Blogiversary post for counting down my favorite films seen in the last year and all those that I'll be adding to my Top 365 list as of tomorrow. In addition, I must give a shout-out to the films that I still greatly enjoyed and that came very close to being List-Worthy, such as The Lake House, Fences, Empire of the Sun, The Help, Hunt for the Wilderpeople, Good News, Educating Rita, The Glenn Miller Story, Ink, No Game No Life: Zero, Fletch, Girls und Panzer der Film, Cinema Paradiso, and Valerian and the City of a Thousand Planets.
I had 51 new additions last year, but only 35 this time, mainly because the bar keeps being raised since I know I'll have to take off something already on my List to make room for the newbies. Yet I still have a fair amount of diversity here, including three war dramas, four superhero movies, four time travel stories, four rom coms, two anime, two non-animated foreign films, an ape trilogy, a single horror, and a partridge in a pear tree. I suspect I've seen more films this year than any year prior and liked the vast majority, though do keep in mind that I tend to run behind other bloggers as far as new releases (including some I really want to see, like Coco, The Greatest Showman, and The Breadwinner), so you'll probably see more Oscar contenders from 2016 than 2017.
It's been especially hard ranking them this year, trying to balance personal enjoyment with objective quality, but these are my Top Twelve films seen in 2017, followed by the rest of the additions in alphabetical order. Don't forget also my unofficial "awards" to honor certain aspects of these 35 new additions, as well as the list of departing films I've had to sadly kick off the List to make room.
I may have to cut down a bit in the coming year, especially since I'll be graduating and looking for a web design job soon. Still, I enjoy movies, poetry, and lists too much to give this up, so I've got plenty more planned. Without further ado, here are my Top Twelve List Additions of 2017.
Dunkirk (2017)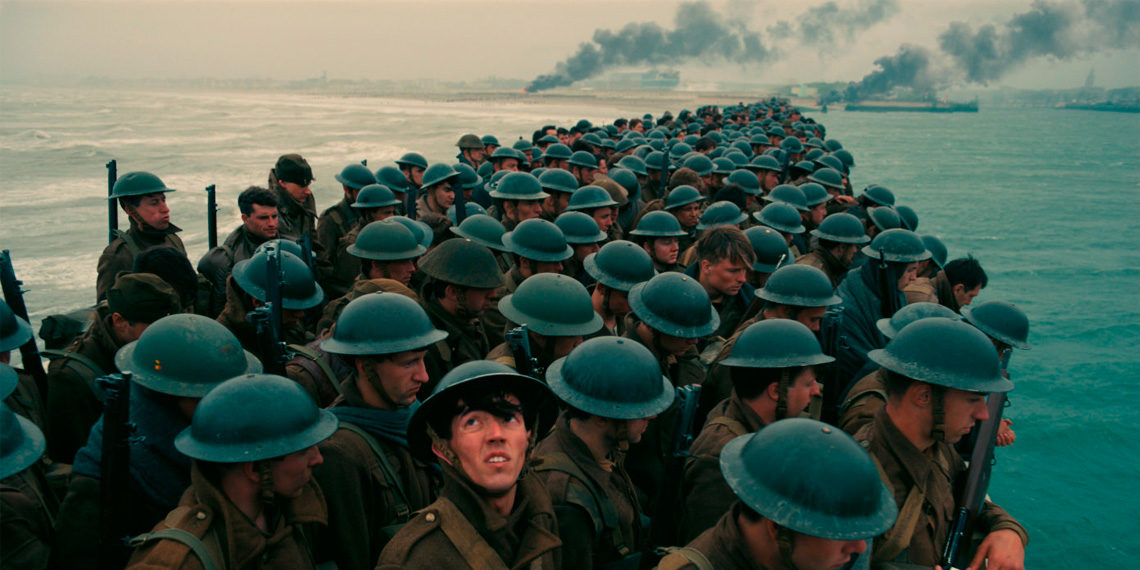 The monumental military escape from Dunkirk was a pivotal moment in World War II, but it didn't really enter the creative consciousness until this year, with three separate films about it: Darkest Hour, Their Finest, and of course Christopher Nolan's universally acclaimed Dunkirk. It's Nolan applying the best of his style, crafting three separate timelines that give us a comprehensive look at the evacuation from land, water, and air. Restrained in content yet still riveting, it's an adrenaline-pumping experience.
A Silent Voice (2016)
Ever since I saw it, this anime drama has stayed with me. It's a redemption story about a young boy who bullied a deaf girl and was soon marginalized himself. Years later, he seeks to make amends with her and reconnect the relationships he ruined. While slow and artsy at times, it's a beautiful film in both animation and themes that connected with me on a personal level.
I might be in the minority in actually enjoying Vol. 2 even more than the first Guardians of the Galaxy. For one thing, I found it funnier, and Kurt Russell as Star-Lord's Celestial dad is a far more appealing villain than Ronin. Plus, there's some great development for secondary characters like Yondu and Nebula, while the action is as eye-popping as anything in the MCU. I can't wait to see the Guardians meet the Avengers in Infinity War!
Hidden Figures (2016)
As someone with direct family ties to the space program, I loved learning about this untold story of the black female computers at NASA. The way they rose from being snubbed and discriminated against to becoming indispensable members of the NASA team is tailor-made for inspirational drama, and even if some of the facts are changed, it's an uplifting tale of intelligence and effort rewarded.
Saving Private Ryan (1998)
I was very wary of my June Blindspot pick, due to Saving Private Ryan's brutal reputation, and while it did have scenes that were hard to watch, I now see why it is considered among the best war films of all time. Spielberg outdid himself with the scope and intensity of the battle scenes and gleaned some fantastic performances from Tom Hanks and Jeremy Davies. The characters weren't quite as well-defined as in, say, Memphis Belle, but the story was a hard-hitting testament to the horror and sacrifices of war.
Déjà Vu (2006)
Please don't hate me for putting this above Saving Private Ryan, which is a great film but not the most watchable. Déjà Vu, on the other hand, was a thoroughly entertaining thriller that tapped into everything I love about the time travel genre. Since I'm a sucker for time travel, I can overlook a few plot holes when the rest is this good.
This was the year I finally checked out the Planet of the Apes remakes, and every one of them exceeded expectations while also upping the quality of the visual effects. Caesar's journey from spared experiment baby to Moses-like leader of a newly sentient race tackles far deeper themes than you'd expect from talking apes, heightened by the emotional stakes of a world torn by hatred and fear. It also confirmed Andy Serkis as the king of motion-capture performance.
Hacksaw Ridge (2016)
Like Saving Private Ryan, Hacksaw Ridge is way more violent than I usually like, but Mel Gibson's faith-filled take on the true story of Desmond Doss was brilliant nonetheless. It was also the first R-rated film I saw in the theater. The first half is refreshingly clean, with Doss's personal struggle as a conscientious objector in the army, while the blood-soaked second half allows his tenacious resolve to prove himself the equal of any man carrying a gun. As Mel Gibson's return to form, it's gratuitous but also moving, patriotic, and exceptional.
Shuffle (2011)
Now for my other top-rated Blindspot, again with time travel. This little-known gem from director Kurt Kuenne is a cinematic puzzle, following a man who awakes from sleep every time on a different day of his life. The way the unfolding story is edited is remarkable, and even if some people felt the ending was schmaltzy, it left me deeply satisfied.
About Time (2013)
Yes, it's another time travel movie! Are you starting to pick up on my tastes? This romantic comedy between time-traveling Domhnall Gleeson and Rachel McAdams as yet another time-traveler's wife charmed me as few films do these days. I was smiling more often than not, and it frankly made me wish for a romance like that of my own one day.
La La Land (2016)
That's right, all you naysayers; I still love La La Land! After seeing it again, I recognize its flaws a bit better, such as the less than professional singing/dancing, but like 2012's Les Miserables, it's a film I enjoyed so much on my first viewing that I just don't care about what others criticize. Damien Chazelle's direction, Justin Hurwitz's score, the performances, the themes of creativity and personal goals, the awesome opening scene—it all added up to what I still consider the best film of 2016. Feel free to disagree.
Star Wars: The Last Jedi (2017)
If #2 wasn't divisive enough, how about this one? I've seen it twice, and I still love it. Shockingly, my VC even declared it the best Star Wars movie of them all, and she's a long-time fan. The action scenes are outstanding, boasting more than a few "whoa" moments, and it progresses the story in fresh and unexpected ways that kept me enthralled from start to bittersweet finish. True, Finn's subplot doesn't amount to much and there are still unanswered questions, but none of the complaints I've heard resonate with me at all. This was my #1 movie that I hoped would be good this year, and it didn't disappoint!
And here are the other additions in alphabetical order, some of which will be joining others of their franchise:
Arrival (2016)
A Star Is Born (1937)
The Big Sick (2017)
Cars 3 (2017)
Cinderella (2015)
Con Air (1997)
The Conjuring 2 (2016)
Creed (2015)
The Disappearance of Haruhi Suzumiya (2010)
The Diving Bell and the Butterfly (2007)
Hear Me (2009)
In Time (2011)
Lion (2016)
Rabbit Hole (2010)
The Red Violin (1999)
Serendipity (2001)
Spider-Man: Homecoming (2017)
Starter for 10 (2006)
Thor: Ragnarok (2017)
Wayne's World (1992)
Wonder Woman (2017)
And to honor these films, here are some of my personal awards I give out every year, the kind that no one cares about but are still fun to give.
Best opening scene: La La Land
Best final scene: A Silent Voice
Coolest scene: Star Wars: The Last Jedi
Biggest emotional impact: Arrival
Oldest film: A Star Is Born (1937)
Most recent film: Star Wars: The Last Jedi (2017)
Longest film: Saving Private Ryan (169 minutes), followed closely by The Disappearance of Haruhi Suzumiya (163 minutes)
Shortest film: Shuffle (82 minutes)
Best soundtrack: Guardians of the Galaxy Vol. 2
Best score: La La Land (The Red Violin a close second)
Best special effects: War for the Planet of the Apes
Most mind-bending: Arrival (and if it qualified, Ink)
Most family-friendly: Cinderella (2015)
Most mature: Saving Private Ryan
Scariest: The Conjuring 2
Funniest: Wayne's World
Most controversial: Star Wars: The Last Jedi
Best VC Pick: The Red Violin
Best male performance: Mathieu Amalric in The Diving Bell and the Butterfly
Best female performance: Nicole Kidman in Rabbit Hole
Most represented year: 2017, with nine films
And now for the most painful part. It killed me to rip some of these movies from my Top 365 List, some of them just added last year and others that have been there from the beginning. I'll tell you this: if I'll have to knock off more favorites a year from now, it's going to be even harder to get a List-Worthy ranking in the coming year. Despite my cutting them, these 25 "retirees" are all great movies I still love, and they will not be forgotten.
12 Angry Men (1957)
Bambi (1942)
Batman: Under the Red Hood (2010)
Being There (1979)
The Boy in the Striped Pajamas (2008)
Cloudy with a Chance of Meatballs (2009)
Everest (2015)
Gettysburg (1993)
The Greatest Game Ever Played (2005)
I Am Legend (2007) and World War Z (2013)
The Impossible (2012)
Kung Fu Panda Trilogy (2008, 2011, 2016)
The Maze Runner (2014) and The Scorch Trials (2015)
Meet the Robinsons (2007)
Of Mice and Men (1992)
Quiz Show (1994)
The Rocketeer (1991)
Roman Holiday (1953)
Room (2015)
The Social Network (2010)
Song of the Sea (2014)
Sophie Scholl – The Final Days (2005)
The Time Traveler's Wife (2009)
Tomorrowland (2015)
The Walk (2015)
Thank you to everyone still reading and everyone who has read, liked, followed, and commented throughout the year. Even the simplest feedback is always encouraging and appreciated. To cap off the year, below is a montage of all that 2017's cinemas had to offer (brief language warning at 1:28).
I wish you all a very Happy New Year, and may 2018 be the best year yet, or at least better than the last one!