There once was a popular tale
That viewers would watch without fail.
So Disney said, "Wait,
Let's remake and update
A classic that never was stale."
Despite the naysayers
And unanswered prayers,
That's just what they did for resale.
And we, the civilians,
Still offered them billions
And all the support they entail.
__________________________
MPAA rating: PG
Like so many others, I rolled my eyes when I heard Disney was continuing their trend of recycling their animated hits into live-action by setting their sights on 1992's Aladdin. Even so, I thought Aladdin at least had plenty of additional story material in the 1001 Arabian Nights to draw from, so it could potentially be not terrible. Even the Internet freakout over Will Smith's blue CGI genie didn't seem like that big of a deal to me. (I swear, people judge movie effects far too quickly, whether it's Alita's eyes or photorealistic Pokemon, and usually it turns out fine once you get used to it.) So despite Disney's so-so track record with these films, I guess I was optimistic but not exactly excited about another Aladdin, and now that I've seen it, my opinion hasn't changed much.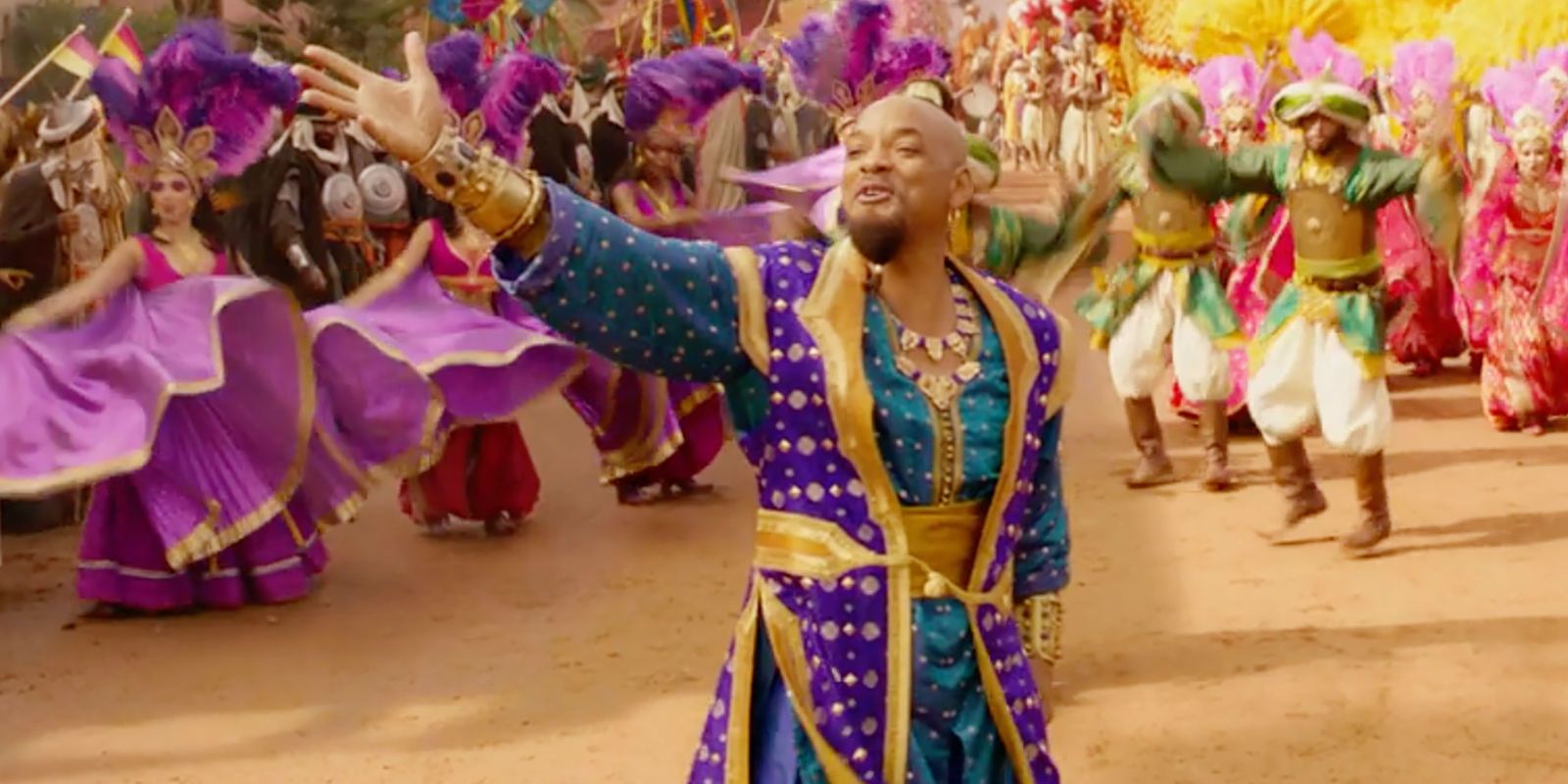 The biggest weakness of these live-action remakes is that they repeatedly tread the same ground, replicating entire scenes and musical numbers that were already perfect in the original and cannot help but pale in comparison. It's why I despised 2017's Beauty and the Beast, yet Aladdin somehow seems more forgivable and entertaining, even if it does suffer from the same fault. I think the actors help immensely in this regard: Mena Massoud is a spot-on charming Aladdin, sporting great chemistry with Naomi Scott's equally well cast Jasmine, who now champions some non-subtle feminism. And while Will Smith as Genie is no Robin Williams, he isn't really trying to be, instead replacing some of the frenetic jokes with more of a hip-hop swagger. Plus, he even gets his own love interest in Jasmine's handmaid, a welcome addition played by SNL's Nasim Pedrad.
Director Guy Ritchie doesn't really bring much of his unique action style to the proceedings, but it's all still competent, fast-paced, colorful, and just different enough from the original to make you say, "Hey, why didn't Jafar fool Aladdin by dressing up as a little old crazy man?!" Honestly, Jafar is the main weak point. Marwan Kenzari does fine with the role, playing him with more of an inferiority complex, but he's missing so many aspects that made Jafar an iconic villain – Jonathan Freeman's deep voice, the imposing stature, the goatee – and Iago and the snake staff don't make up the difference to make him particularly memorable. The musical numbers are similarly not quite as vibrant as their animated counterparts (although the effects team did better with "Friend Like Me" than I was expecting), and Jasmine's added girl power anthem is lovely but awkwardly placed as far as pacing.
It's hard to judge these movies on their own merits since it's hard not to compare them to the original, but if the original Aladdin didn't exist, I think this one would be an amazing and innovative family film. As it is, it's a pretty entertaining if uninspired family film with a laudable message, which still isn't a bad thing these days. It's at least not the kind of remake that does a disservice to the original, and since Disney insists on making more and more of these, that might be the best case scenario.
Best line: (Jafar) "Steal an apple, and you're a thief. Steal a kingdom, and you're a statesman."
Rank: List Runner-Up
© 2019 S.G. Liput
653 Followers and Counting
And a very Happy Thanksgiving to all!