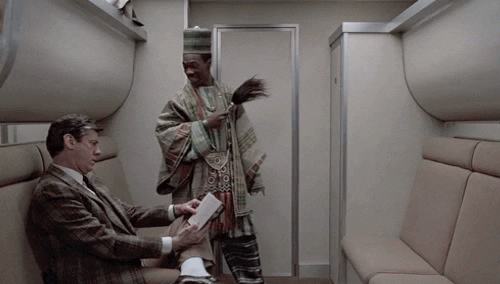 It's hard to believe, but a whole other year has passed, and I find myself once again celebrating a Blogiversary. Has it really been five years since I started my original top 365 movie countdown?! It doesn't feel like that long, but perhaps that just means I'm having fun. That must be it, because 2018 has been an especially good year for movie-watching, and as with every blogiversary before, it's time to recap all the high points of the past year with (what else?) a Top Twelve List of the movies worthy of joining my Top 365 List!
Since I now have five years of movie-blogging under my belt, I've had to become more choosy with what I christen as List-Worthy, which means only 25 films earned that distinction this year, the least of any year thus far. That's not to say I haven't seen many more great films than that, such as Black Panther, Boyhood, Yi Yi, In This Corner of the World, Tombstone, Marjorie Prime, 50 First Dates, Sunshine, Eternal Sunshine of the Spotless Mind, Next Gen, The Sandlot, Still Mine, and Only the Brave, but for whatever reason, they fell just a tad short.
Yet, while last year's 35 additions were mainly in the latter half of the list, this year's favorites climb a little higher. I, of course, liked my Top Twelve from last year, but this year's additions have some new films I truly loved. As usual, several of them are from me playing catch-up on 2017's releases, but even more are from 2018, and I couldn't help but notice that none of the additions are from the 20th century. Hmm, I've got to fix that next year and see more older films.
As always, this is my personal opinion, and everyone is free to agree or disagree. I welcome any comments or recommendations, and I look forward to finding more movies worth loving next year.
Anyhoo, let's get to the list itself and reminisce on the cinematic rollercoaster that was 2018.
Ant-Man and the Wasp (2018)
As much as I enjoyed this second Ant-Man movie, I'm surprised it ended up as low as #12. After Infinity War's epic doom and gloom, the MCU needed a little levity, and Ant-Man and the Wasp delivered an all-around fun thrill ride with one of the more satisfying endings in the franchise, at least until the after-credits scene. Luis saying "Whazzup!" still cracks me up.
This is only the first awesome animated film you'll see on this list. Animation lovers mainly get their jollies from American or Japanese properties, so it's nice to be reminded that Europe's got game too. A steampunk adventure out of France that would make Miyazaki proud, April and the Extraordinary World offers an exciting blend of genres that feels fresher than the vast majority of recent animated fare.
Coco (2017)
Pixar hit it out of the park yet again with Coco, a fantasy tale of a Mexican boy visiting the Land of the Dead on Dia de Muertos. Boasting astounding new heights of CGI detail and a surprising amount of heart, Coco is proof that Pixar's storytellers still know what they're doing.
Mission: Impossible III, Ghost Protocol, Rogue Nation, and Fallout (2006 – 2018)
Last year, I caught up on the excellent Planet of the Apes remakes and this year decided to again tackle a series I've been unconsciously avoiding, the increasingly acclaimed Mission: Impossible franchise. To my surprise, they were even better than anticipated, and all of them from the third on (after J.J. Abrams got involved) are outstanding actioners. I think M:i:III is still my favorite for having the most personal stakes and the most satisfying ending.
Ah, the tearjerker makes its way onto the stage. As a fan of both fantasy and anime, as well as movies that earn the viewer's tears, I was bound to love this film, and indeed its ending hit me harder than expected. Easily the most poignant film I saw all year.
Spider-Man: Into the Spider-Verse (2018)
I may have seen this animated Spider-Man extravaganza for the first time only a couple days ago, but it keeps getting better in my head. The rap music wasn't my favorite, but everything else about this trippy cross-over adventure was so well-done that I can't wait to see it again.
Darkest Hour (2017)
Darkest Hour isn't great just for having one of the most transformative performances on film, courtesy of Oscar winner Gary Oldman. It's also among the best biopics I've seen, giving a well-rounded view of Winston Churchill, sometimes as a demanding bully but more often as a persevering patriot, as well as a vulnerable human being in his most dire period. Especially as a companion piece to Dunkirk, it's a fascinating piece of history eloquently told.
The Incredibles 2 (2018)
This year, Pixar once again pulled off the unlikely, offering a worthy sequel to one of their best films. Continuing the story of the Parr/Incredible family as they try to make superheroes legal again and face a mind-controlling threat, this is a great family film and ranks among Pixar's best sequels.
Ready Player One (2018)
This dystopian virtual-reality pop-culture treasure hunt was #1 on my list of films I hoped would be good at the beginning of 2018, and, thanks to Steven Spielberg and company, it was. True, it doesn't quite measure up to the book, but the changes made sense as it offered up one geeky thrill after another.
Train to Busan (2016)
If you had told me a year ago that I would be putting a zombie film on my list, I would never have believed it. I am by no means a typical fan of the genre, but no film kept me on the edge of my seat like this South Korean thriller. It's an adrenaline-pumping fight for survival where things repeatedly go from bad to worse, but it's paired with an affecting tale of a father trying to live up to his daughter's expectations while saving her life.
The Greatest Showman (2017)
I love musicals, and I insist that we need more original ones like The Greatest Showman. Not subtle or historically accurate enough perhaps to be considered Oscar material, it's nonetheless a joyous film from start to finish, full of misfit empowerment, spectacular show tunes, and an undercurrent of family values. It leaves me smiling every time.
Avengers: Infinity War (2018)
Well, Marvel pulled it off, the crowning glory of the MCU thus far. Infinity War is staggering in its ambition, juggling so many characters that it so easily could have turned into a jumbled mess in less skilled hands (ahem, DC), yet I've little doubt that the Russos surpassed everyone's expectations. The ending still stings, and my continued appreciation of this movie will likely depend on how well Endgame completes it in the coming year, but for now Infinity War still amazes. I've heard it called this generation's Empire Strikes Back, and I don't disagree.
So that's the Top Twelve, but here are the other films that made it onto my Top 365 Movie List this time around. Keep in mind that I do group most franchises together, which is the only reason I made Pirates of the Caribbean: Dead Men Tell No Tales List-Worthy, since it continued the original trilogy. I also group certain similar films together, so Sky Captain and the World of Tomorrow will be paired with April and the Extraordinary World, while A Quiet Place will pair with Hidden.
A Monster Calls (2016)
A Quiet Place (2018)
Chronesthesia (a.k.a. Love and Time Travel) (2016)
Pirates of the Caribbean: Dead Men Tell No Tales (2017)
Searching (2018)
Sky Captain and the World of Tomorrow (2004)
Solo: A Star Wars Story (2018)
The Last Days (or Los Ultimos Dias) (2013)
Thor (2011) and Thor: The Dark World (2013) (brought back to join Thor: Ragnarok as a trilogy)
And as in past years, here are some unofficial awards for the List-Worthy films, which only list nerds like myself will find of interest:
Best opening scene: Mission: Impossible – Rogue Nation
Best final scene: Maquia: When the Promised Flower Blooms
Coolest scene: Avengers: Infinity War
Biggest emotional impact: Maquia: When the Promised Flower Blooms
Oldest film: Sky Captain and the World of Tomorrow (2004)
Most recent film: Spider-Man: Into the Spider-Verse (2018)
Longest film: Avengers: Infinity War (149 minutes)
Shortest film: A Quiet Place (90 minutes)
Best soundtrack: The Greatest Showman
Best score: Thor: The Dark World
Best special effects: Avengers: Infinity War
Most mind-bending: Eternal Sunshine of the Spotless Mind (even though it wasn't quite List-Worthy)
Most family-friendly: The Incredibles 2
Most mature: either The Last Days or Train to Busan
Scariest: A Quiet Place
Funniest: Ant-Man and the Wasp
Best VC Pick: Tombstone
Best male performance: Gary Oldman in Darkest Hour
Best female performance: Not many to choose from, but probably Sigourney Weaver in A Monster Calls
Personal favorite poem written: Yi Yi
Most represented year: 2018, with ten films
And last comes the difficult part, figuring out which entries on my current List will have to be displaced by these new additions. This always hurts since I still love all these movies, but it's a necessary evil for me as a list nerd. The following are the (still great) films that sadly bit the dust:
Almost Famous (2000) and Sing Street (2016)
A Star Is Born (1937)
The Age of Adaline (2015)
The Big Sick (2017)
Cannery Row (1982)
Counterpoint (1967)
Footloose (1984)
The Impossible (2012)
Innerspace (1987)
The Iron Giant (1999)
The Iron Lady (2011)
Spy Kids (2001) and Spy Kids 2: The Island of Lost Dreams (2002)
Time after Time (1979)
X-Men: First Class (2011) and X-Men: Apocalypse (2016)
I'll be posting the updated List tomorrow. Again, I wish to thank everyone who has taken the time to read my poetry or film ramblings and leave a like, follow, or comment in the past year (and especially anyone who is still reading this long post)! I can't wait to see what the year ahead holds. A very Happy New Year to all!
P.S. And here's a little montage video I found to sum up 2018 in film: