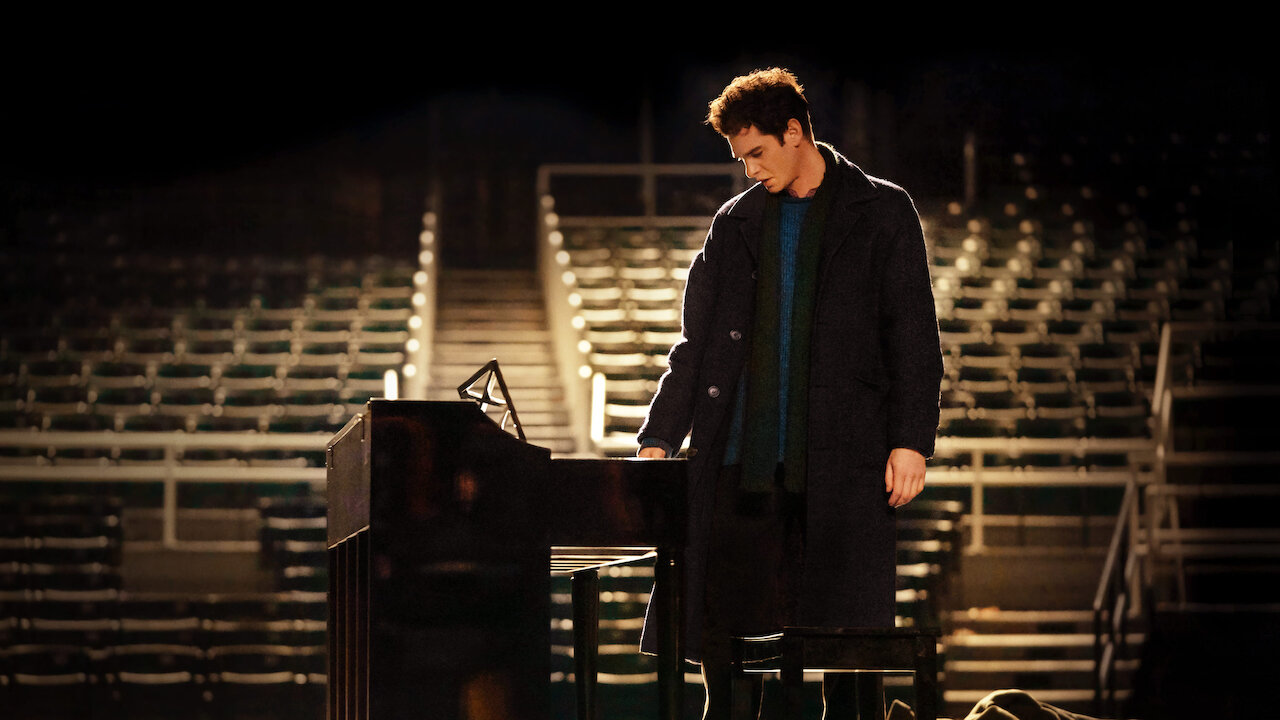 We hear all these tales of unlikely success,
Of thousands of no's that resulted in yes,
Of people achieving their triumph with less
Than anyone else could have guessed was required.
They seem the exception to that wretched truth
That work is not always rewarded, nor youth,
And even those weary and long-in-the-tooth
Have little to show for their being so tired.
But who could have guessed what those blessed ones would do?
What low expectations observed their debut?
And who says that I can't be one of those few?
And who says that you aren't exceptional too?
__________________________
MPA rating: PG-13
I suppose the first order of business for 2022 should be reviewing the films that made it onto my end-of-year list for 2021. Considering my fondness for animation, musicals, and superhero films, it's not surprising that these dominated much of the list, and the only musical of last year that didn't disappoint at the box office (since it was released on Netflix) was my favorite of the bunch.
Tick, Tick… Boom! is the other Jonathan Larson work, a one-man musical monologue that never made it to Broadway like his hit Rent did five years later. Considering I doubt anyone was clamoring for a film version of this lesser-known "rock monologue" from thirty years ago, it's clear that this was a passion project. First-time director Lin-Manuel Miranda has written that Tick, Tick… Boom! inspired him when he saw a reworked version performed after Larson's untimely death, and he even played Larson himself in a 2014 production. It makes sense that Larson's semi-autobiographical take on the stresses of chasing success in musical theater resonated with Miranda, whose Hamilton shared the role of someone writing "day and night like [they're] running out of time." In the case of Jonathan Larson (Andrew Garfield), he struggled to produce his futuristic rock opera Superbia and wrote Tick, Tick… Boom! as an outlet for his creative frustration, even as the 1990s and his thirtieth birthday loomed before him.
I knew nothing about the story going in and was amazed at how fitting it was that I watched it on my own birthday. The very first (and very catchy) song "30/90" laments how quickly the years are outpacing Jonathan's dreams of making his mark on the world, a sentiment that I can certainly relate to, along with most other twenty- or thirtysomethings out there. Andrew Garfield delivers one of his best performances yet in the lead role, demonstrating he's a double threat of acting and singing (for the first time apparently). Whether he's ecstatic over small achievements, harried working for every cent and every note he can muster for the sake of his workshop, or heartbroken by tragic news, he runs the full spectrum of emotions and well deserved his recent Golden Globe win.
Also outstanding are Alexandra Shipp as his girlfriend Susan and Robin de Jesús as his friend Michael, both of whom suffer being left behind by Jonathan's mania of chasing success even as they sincerely want him to find it. Plus, like Zac Efron in The Greatest Showman, it was nice to see Vanessa Hudgens returning to her movie musical roots as one of the key singers for the show/workshop. The film also incorporates elements that would clearly go on to influence Larson's next musical Rent, such as several of Jonathan's gay friends falling to the AIDS epidemic.
Tick, Tick… Boom! has an unusual structure; while most of it is the expected movie musical format (drama with interspersed musical numbers), it's mixed with scenes of Larson/Garfield narrating on stage with piano and band as if performing the show live to an audience. As a sort of blend of stage play and film memoir, it excels at folding the songs into the narrative as embellishments of the first-person storytelling. There's really only one moment where the song seriously fails to match the tone, when a sardonically poppy song about relationship problems clashes with an otherwise very serious scene. Regardless of such minor hiccups, the quality of Larson's music and lyrics speaks for itself, from the gentle guitar of "Johnny Can't Decide" to the stark piano of "Why" to the full rock ensemble of "30/90" and "Louder Than Words." In particular, "Why" struck me as an emotionally exhausting performance akin to Anne Hathaway's "I Dreamed a Dream" in Les Miserables, so Garfield had better get an Oscar nomination.
Every now and then, a movie about creativity and chasing art comes along and speaks to me on an especially personal level, films like Whisper of the Heart or La La Land that often are appreciated by some more than others. Tick, Tick… Boom! is just such a film. I have my own latent plans for a musical that I've been toying with for years, and while I have yet to put full effort toward it, watching Larson's grueling journey and eventual vindication gives me hope that my own efforts won't be in vain, even if it seems so.
The film is a tribute to both Jonathan Larson and the creative process of musical theater, elevated by Miranda's personal direction and lots of cameos from Broadway legends that not everyone will recognize. Some cool trivia: Bradley Whitford plays Larson's idol, the late great Stephen Sondheim, but when Sondheim leaves an encouraging voice mail toward the end of the film, Sondheim himself recorded the lines. All these layers make Tick, Tick… Boom! a clear labor of love and, for me at least, a film to love as well.
Best line: (Jonathan, after a rejection) "So what am I supposed to do now?" (Rosa, his agent) "You start writing the next one. And after you finish that one, you start on the next. And on and on, and that's what it is to be a writer, honey. You just keep throwing them against the wall and hoping against hope that eventually something sticks. Listen. Little advice from someone who's been in this business a long, long time. On the next one, maybe try writing about what you know."
Rank: List-Worthy
© 2022 S.G. Liput
751 Followers and Counting