(Best sung to the tune of "I'm Gonna Be (500 Miles)" by the Proclaimers)
If you watch this,
You should know they're gonna sing,
They're gonna sing their lines as lyrics and a tune.
If you hate this,
You should know it's gonna sting,
It's gonna sting 'cause even cynics aren't immune.
But I like this,
I like musicals galore,
And by galore, I mean there's plenty to embrace.
If you don't like this,
Then it's better to ignore,
But you ignore what puts a smile on my face.
And I would watch this musical
And I would watch 500 more
If it means they'll make more musicals,
No matter how the haters roar.
_______________________________
MPA rating: PG (mainly some innuendo)
When I choose my Blindspots at the beginning of each year, I usually don't give any thought to how exactly I'll watch them. With so many streaming options nowadays, there must be some way, right? When I decided to watch Sunshine on Leith, I realized that might be difficult, considering the Scottish musical was not on any streaming subscription and apparently had never been released on DVD in the U.S., meaning anything I bought would not be playable on my U.S. player. I was on the verge of having to change my Blindspot choice entirely, but thankfully I checked YouTube, where it happened to have been uploaded by some overseas saint. So note to self, maybe I ought to verify that I can actually find the movies on my Blindspot list before I announce them.
Anyway, I had a strong feeling that Sunshine on Leith would be my kind of movie. A feel-good romantic musical set in Scotland? Yes please! The closest analogue to this film would have to be Mamma Mia!, the jukebox musical that incorporated ABBA's diverse discography into a mostly coherent storyline. This time, the featured music is that of the Proclaimers, a Scottish duo known for songs that tend to tow the line between rock and barroom folk anthems. Admittedly, I was only familiar with two of their songs, "I'm on My Way" and most famously "I'm Gonna Be (500 Miles)," both of which debuted on the 1988 album Sunshine on Leith, from which the film gets its name.
So, unlike Scottish audiences, I had little internalized fondness for these songs since they were mostly new to me. Yet I still enjoyed the songs quite a bit, even if the performances often lack the wow factor of other musicals. It's very much in the vein of Mamma Mia!, with characters sometimes breaking into goofy theatrics for an impromptu musical number, and the final rendition of "I'm Gonna Be" is undoubtedly the best, combining the romantic climax with the most fun choreography.
However, in combining songs that were not necessarily written to fit into a narrative, the plot is unfortunately thin. It chugs along in feel-good mode with hardly any conflict before suddenly dropping three different conflicts all at once and resolving one in the space of a single song that didn't seem to actually address the problem. I'm genuinely impressed by the way musicals like this and Mamma Mia can combine unrelated songs into a cohesive plot; I've wished I or someone could do the same for some of my favorite artists, like TWRP, Autoheart, or Coldplay. It can't be easy, but this is one case where the songs often don't quite fit naturally, instead making the plot feel overly rushed at times, despite the good performances of actors like Peter Mullan, Jane Horrocks, and George McKay (years before 1917). And yet the songs are also the best parts, causing the non-musical sections to suffer by comparison.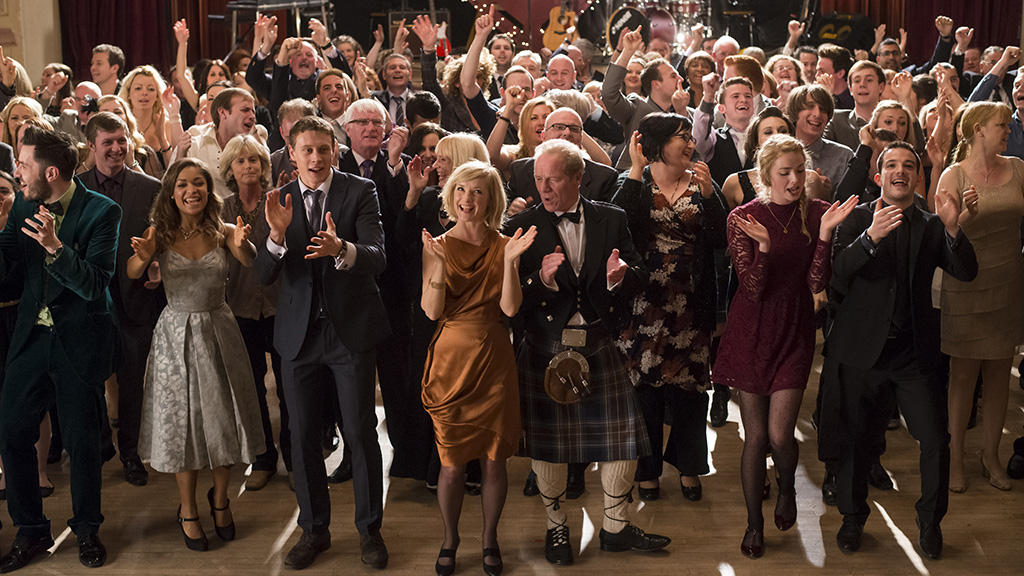 I love musicals, and I liked this one, but I hate to admit that I didn't like it as much as I wanted to. It has the feel-good romance aspect, paired with elements that try to make it less like a predictable Hallmark movie, and it introduced me to some great Scottish tunes. And while I was concerned that the accents may be hard to understand, I was able to follow along without missing too much. I'd gladly watch it again, so perhaps it will grow on me like Mamma Mia! has. If they'll actually release the darn thing in the U.S.!
Rank: List Runner-Up
© 2021 S.G. Liput
748 Followers and Counting
A very Merry Christmas and Happy Holidays to all!