"The first Asian hero!" the headlines declare,
A landmark of cinema, and you were there.
It's representation I'm glad to endorse,
And long overdue as a matter of course.
Yet somewhere I feel Wong is crying a river
And can't help but feel quite a bit like chopped liver.
And Hogun, Thor's buddy so fleetingly brought in,
Somewhere in Valhalla is feeling forgotten.
And ol' Jim Morita, a Howling Commando,
Had no superpowers but still made his stand, though.
So yes, it's important, the first Asian lead,
But let's not forget someone had to precede.
_______________________
MPA rating: PG-13
In contrast to 2020, I've been lucky enough to see all of Marvel's releases this year in the theater, but whereas I was alone for Black Widow in an empty theater, I got to see Shang-Chi with friends. It really felt like the movie theater experience was truly back. It also helped that it was a kick-butt blockbuster and one of the best origin movies of the recent MCU.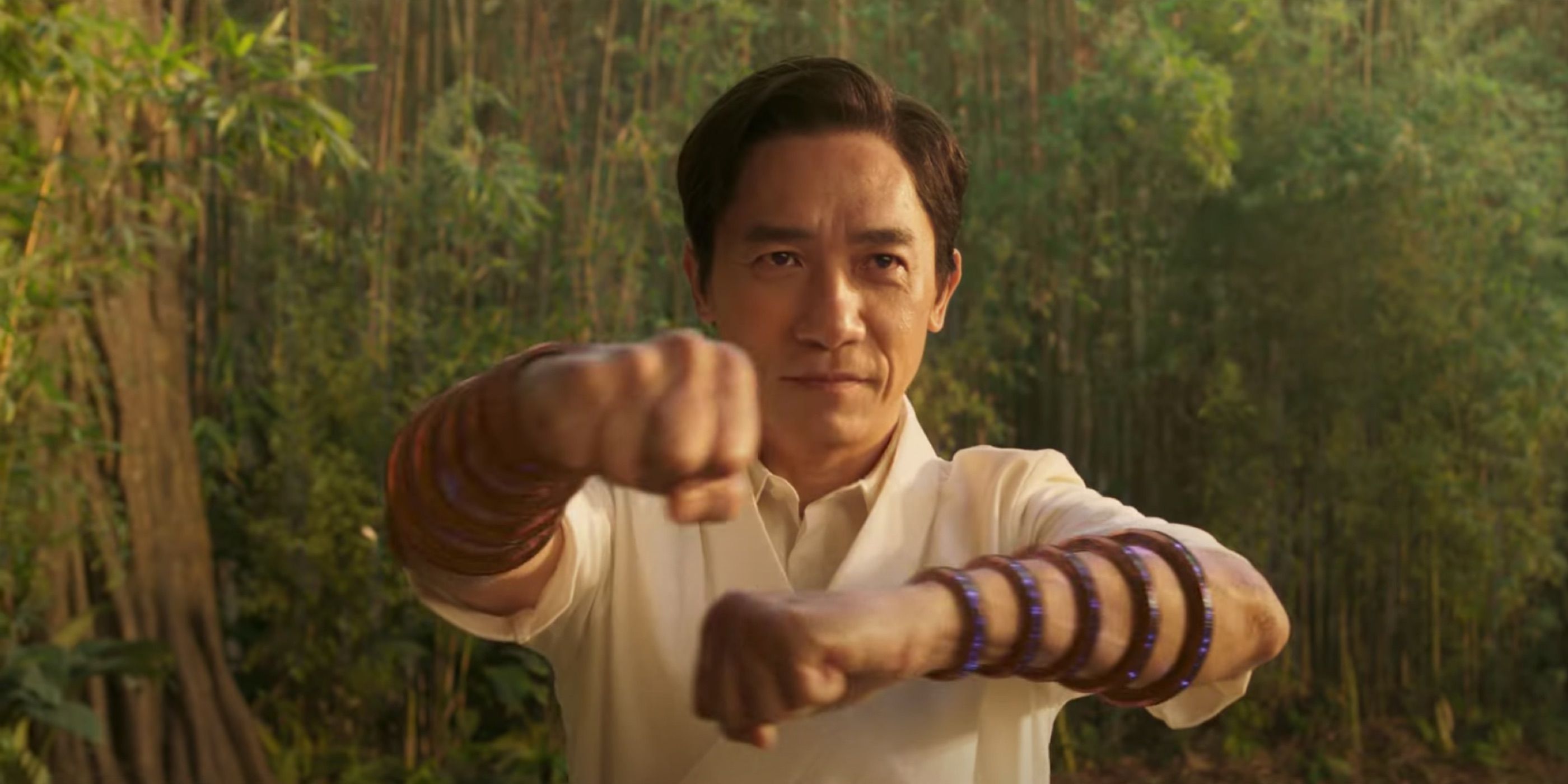 I consider myself at least somewhat hip to comic book lore, and I had never heard of Shang-Chi before his own solo film was announced. Although the character dates back to the '70s when he was introduced as the son of Fu Manchu and modeled off Bruce Lee, the public unfamiliarity with the character allowed Marvel Studios to craft their own synthesis of story elements, from the ten rings of the Mandarin (previously impersonated in Iron Man 3) to a cosmic monster that ranks as one of the more obscure villains in Marvel history. Here, Shang-Chi's father is Wenwu (Chinese superstar Tony Leung), an ancient warlord granted immortality and great power by ten arm rings, or bracelets if you get right down to it. Trained from childhood to be a master of martial arts, Shang-Chi or "Sean" (Simu Liu) escapes to live a normal life as a valet in San Francisco, only to be dragged back into the world of lethal assassins and mystical secrets, along with his friend Katy (Awkwafina) and sister Xialing (Meng'er Zhang, in her mainstream film debut).
Just as Crazy Rich Asians revitalized the rom com with its all-Asian cast, Shang-Chi succeeds in satisfying Marvel's efforts at diversity with a superhero film that is good in its own right (and reunites Awkwafina and Michelle Yeoh too; now I wonder if they'll ever run into Gemma Chan of Eternals). I haven't seen Simu Liu in the Canadian sitcom Kim's Convenience, but Marvel once more excels at casting likable heroes, both on- and off-camera. His camaraderie with Katy and his tortured past with his father paint him as a would-be assassin just trying to live a normal life, and Liu's charisma opposite Awkwafina and Leung really sells the character, even if the other two outshine him at times. Katy becomes one of the most endearing and actively involved Marvel love interests, and Wenwu is the best kind of villain, the type whose motivations are not only misguided but understandable and sympathetic even.
No Marvel movie is perfect, of course, and Shang-Chi and the Legend of the Ten Rings is no different. The final battle is both an awesome spectacle and a CGI mish-mash, and one training sequence results in some unrealistically fast skill growth. Perhaps there is an overreliance on flashbacks too. Yet Shang-Chi is also Marvel's first big-screen foray into stunt-heavy martial arts, which never disappoint, from a thrilling free-for-all on the side of a skyscraper to an artful wuxia-style fight/dance reminiscent of Crouching Tiger, Hidden Dragon (hello, Michelle Yeoh again). Shang-Chi may not break any molds and may not be the funniest or most powerful of Marvel properties, but it's still an outstanding debut for Marvel's first Asian lead, with just a few welcome cameos to introduce him to the larger MCU. It's my favorite Marvel release of the year so far, and I look forward to seeing how they'll use this new corner of Marvel mythos.
Best line: (Shang-Chi's aunt, played by Yeoh) "You are a product of all who came before you, the legacy of your family. You are your mother. And whether you like it or not, you are also your father."
Rank: List-Worthy
© 2021 S.G. Liput
745 Followers and Counting