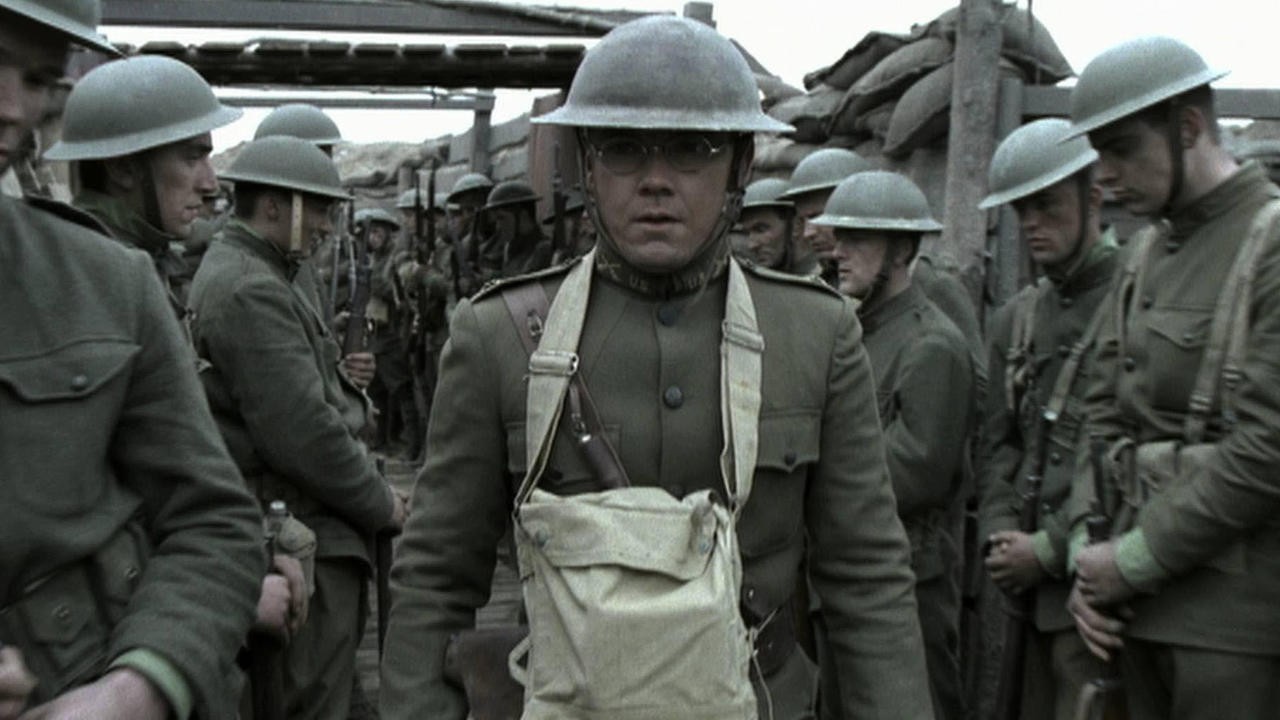 Would every war have been the War
To End All Wars, we sigh,
That dealers of demise and gore
Would not be fashioned anymore
From friends and fathers summoned for
To fight and kill or else to die.
How many heroes, horror-hewn,
Have died for lack of peace,
Both peace from battles body-strewn
And peace of mind, that distant boon?
No haunted human is immune,
From memories that never cease.
A hero may not ever meet
Recipients of peace.
The foolish, thoughtless, and elite
Think heroism obsolete,
But we will not forget their feat,
For neither do our memories cease.
___________________
MPA rating: TV-14 (violence somewhere between a strong PG-13 or a light R)
Like last year with Journey's End, it seemed like Veteran's Day was the right time for a World War I movie. The Lost Battalion may have been a TV movie created for A&E, but it holds up with the best films about World War I. Grown-up child star Rick Schroeder plays Major Charles Whittlesey, a former New York lawyer who grudgingly follows his general's commands and leads the Army 77th Infantry Division to take the Argonne Forest, only to be cut off from all support as they hold their ground. The true story was first told in a 1919 silent film (which is available on YouTube), but, unlike that version, the 2001 film never leaves the battlefield, showing the cost-heavy struggle in all its savagery and heroism.
It's easy for World War I films to be boiled down to trench warfare, so grimly brought to life in films like 1917 and Journey's End, but it was a change of pace for The Lost Battalion to leave the trenches behind and mostly take place in a forest setting. Schroeder does an excellent job as a weary commander forced by duty to lead his men into certain doom, while the rest of the cast excel at depicting the mixed ethnicities that fought alongside each other on the battlefield. The violence was stronger than I expected for a TV movie, with blood spatter that still doesn't come close to Saving Private Ryan or Hacksaw Ridge (which also featured the 77th), but the cinematography and editing go a long way toward making the battle more chaotic and dire. The Lost Battalion is a reminder of many things – the stubborn courage of American soldiers, the bitter pill of "acceptable losses," the military bonds that transcend racial conflict – but, as with so many war films, it makes me grateful to all who have fought for freedom.
Best line: (Major Whittlesey) "Two days ago, we had a Chinese working our field phone, an American Indian for a runner. They're both dead, but that's not the point. These Italian, Irish, Jews, and Poles, they'd never hire me as an attorney. We wouldn't be seen at the same events. But we will never in our lives enjoy the company of finer soldiers or better men than we do tonight."
Rank: List Runner-Up
© 2021 S.G. Liput
741 Followers and Counting
A huge thank you to all veterans and soldiers. May God bless and protect you all!