(For Day 16 of NaPoWriMo, the prompt was for some Skeltonic, or tumbling, verse, consisting of short, rhyming lines, which is right up my alley.)
I love the sight
Of birds in flight
Or perched amid
The leaves, half-hid.
At rest, in flight,
They're my delight.
I'm lost for words
With hummingbirds.
I often fawn
On goose and swan.
I cherish gulls
And cardinals,
From tiny wren
To pelican.
I feel at ease
With chickadees,
And one must love
A mourning dove.
To come across
An albatross
Or sight an owl
Or water fowl,
Would thrill me like
I saw a shrike
Or had the luck
To sight a duck.
I'm not alone,
So avian-prone.
We have a crush
On lark and thrush
And never flinch
To chase a finch.
We're connoisseurs
Of tanagers
And followers
Of kingfishers.
We twitchers seek
Each wing and beak,
And, of a feather,
Flock together.
___________________________
MPA rating: PG
It was only a matter of time before I reviewed this 2011 charmer since I included it on my end-of-year Top Twelve list of films seen in 2020. I'll be honest:  while I love wildlife, I have no particular fascination with birds, so a movie about obsessive bird watchers didn't seem like an instant favorite-to-be. Yet The Big Year is so consistently endearing that I couldn't help but enjoy it.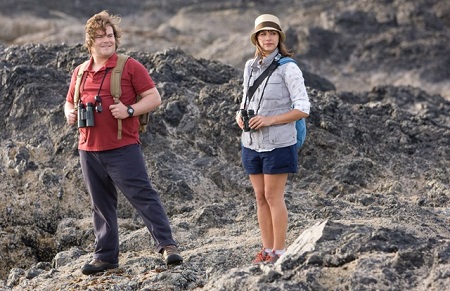 For those who don't know what a "big year" is, as I didn't before seeing this, it is an annual competition among bird watchers to sight as many bird species as possible in a single year, with the current U.S. record being 836. (I discovered that there is an informal British term for those with such an obsession, "twitchers," though it's never used in the film.) Based on a nonfiction book, the film follows three birders on their year-long odyssey – Kenny Bostick (Owen Wilson), the compulsive champion intent on keeping his title; Stu Preissler (Steve Martin), the business executive wishing to focus more on his bird passion; and Brad Harris (Jack Black), the newcomer eager to prove himself. It's both amusing and worrying to see how the men try to balance their work and home lives with a hobby that involves flying across the country at the first sign of a rare goose or hummingbird. Even with some light scheming and terrible decisions, every character comes off as supremely likable, and the film's sense of humor just clicked with me, gentle but with a self-aware streak that doesn't let it become too goofy.
One of The Big Year's greatest strengths is its cast, not just Wilson, Martin, and Black (once again proving his acting talent when subduing his bombast), but also the likes of Rosamund Pike, Jim Parsons, Rashida Jones, Brian Dennehy, Joel McHale, Anjelica Huston, and Anthony Anderson, among other recognizable faces. Its other major asset is an outstanding soundtrack, ranging from Coldplay to The Beatles, that sets the mood for the U.S.-hopping adventure.
Ultimately, I once more return to my favorite line from La La Land, that "people love what other people are passionate about." So even if I have little interest in ornithological collecting, it was a joy to watch these comedy greats make it look like the most important thing in the world for 102 minutes. What starts out as a funny bird movie morphs into a reflection on obsession and the priorities that really matter along the way. It may not be the kind of film to show up on others' favorite lists, but it makes mine.
Best line: (the text at the very beginning) "This is a true story. Only the facts have been changed."
Rank: List-Worthy
© 2021 S.G. Liput
728 Followers and Counting