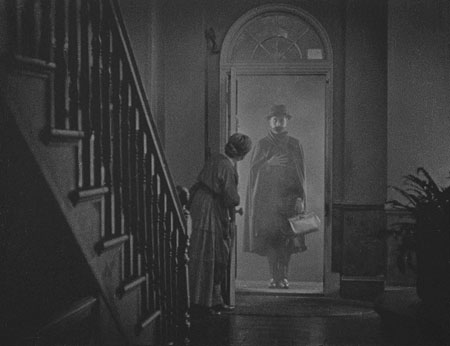 (For Day 6 of NaPoWriMo, the prompt was to write a poem based on a line from a favorite book. So I drew some inspiration from a line in 84 Charing Cross Road, in which Helene Hanff offers to include her pen pal in her murder mystery scripts: "You want to be the murderer or the corpse?" So my poem blurs the line between villain and victim based on first impressions.)
Despite the common maxim told
Of judging books and covers seen,
It's still a fact that people mold
Opinions and the views they hold
Before the truth can quite unfold.
A first impression sets the scene,
And then the slate is far from clean.
You see a man in overcoat
Within the baleful mist's embrace.
His gaze is sullen and remote,
And deathly rumors round him float.
Before a word can leave his throat,
You're sure that murder's in his face.
And who's to prove if that's the case?
Assumptions lead one far astray
Or prove correct our own dismay.
___________________________
MPA rating: Not Rated (PG thematically but little objectionable shown)
Here then is a silent, black-and-white classic, so no one thinks I only review recent movies. The third film made by Alfred Hitchcock and his first big success, The Lodger is a forerunner of many a murder mystery in which the arrival of a mysterious newcomer coincides with eerie happenings. In this case, the titular Lodger (Ivor Novello) arrives to the Buntings' London home in search of a room to rent, just as the news of a serial murderer known as the Avenger has the city in a panic. He catches the eye of his landlady's (Marie Ault) daughter Daisy (June Tripp), but her parents and policeman beau (Malcolm Keen) see only suspicious activity from the awkward stranger.
The Lodger is a film created and designed for a different time, which has to be taken into account when watching silent films from almost a century ago. I can see naïve moviegoers who had only ever read mystery books watching this movie with bated breath at the creepy atmosphere, but honestly, it's rather underwhelming, boring even for modern viewers like me. That's not to say it's not worth the watch; indeed, Hitchcock's early work still boasts some haunting imagery and inventive camerawork for the time. And Novello's title character, pale with stage makeup and a creepy stare to rival Johnny Depp's Tim Burton roles, is just ambiguous enough to leave you wondering who he really is. The Lodger may be dated, yes, but every genre needs its forerunners. It's a film worth seeing and certainly preserving for historical value alone.
Best line: (The Landlady, noticing money on the mantle) "You should lock that money up, sir, it's tempting providence." (The Lodger) "Providence is concerned with sterner things than money, Mrs. Bunting."
Rank: Honorable Mention
© 2021 S.G. Liput
722 Followers and Counting