A hand without a body or a man without a hand –
Which would be more piteous or prone to reprimand?
The hand is guiltless, lacking fault; its owner bears the blame
Of entering a situation liable to maim.
The hand is helpless, lacking mind; its owner bears the thought
That they may wish to clap and clasp two hands and yet cannot.
The hand is listless, lacking will; its owner bears the task
Of moving on and living life behind a fragile mask.
The former owner bears so much, yet his lot I'd prefer
Than that poor hand that cannot even know how things once were.
Pity the hand but love the stump and all to it attached.
At bouncing back from tragedy, we humans are unmatched.
____________________________
Rating: TV-MA (should be PG-13)
I take the Best Animated Feature Oscar perhaps more seriously than others do. After superb anime films like Your Name or Maquia have been spurned in recent years, I take notice when the Academy deems other foreign films worthy of the honor of nomination. The seventh French production to earn such a nomination was last year's I Lost My Body, a strangely poetic meditation on loss that happens to involve a severed hand.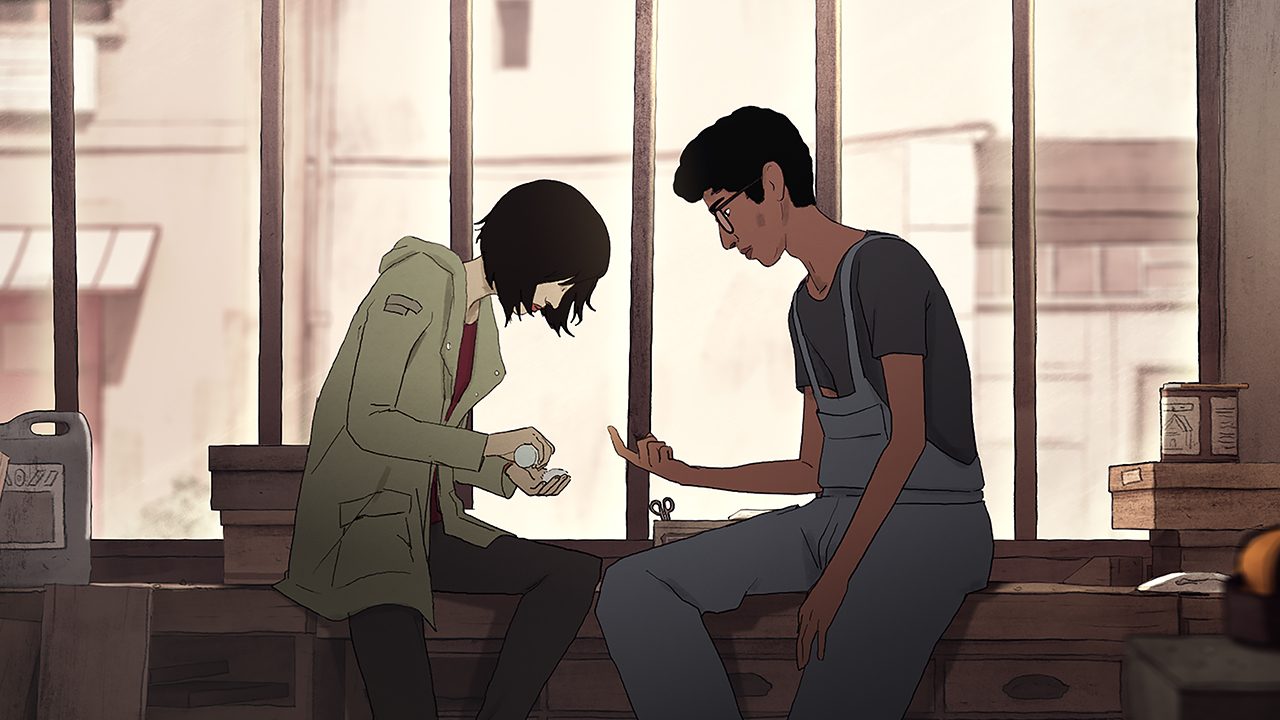 At first, we don't know how the severed hand came to be, though; the film starts out with the appendage "waking up" in the macabre fridge of a hospital and figuring out how to walk and jump with its fingers, like a more mobile Thing from The Addams Family. Cut then to the past and sullen pizza delivery guy Naoufel (Dev Patel in the quite good English dub), whose childhood of joy and trauma is recounted in flashback throughout the film. In failing to deliver a pizza, he becomes acquainted with a librarian named Gabrielle (Alia Shawkat) and takes up a job as a woodworker to get closer to her. Edited into this more grounded story, Naoufel's future hand (which is evident from a scar they both have) makes its way across Paris in search of its owner.
It's hard to call any movie about an animate severed hand anything but strange and morbid, but I Lost My Body treats it as an extended metaphor, which, as I said before, grows surprisingly poetic, heightened by a memorably haunting score. The close calls of the hand's travels across a dangerous urban landscape provide thrilling visuals, while Naoufel's struggles offer bittersweet human drama. Naturally, the film's ultimate lead-up is to how the hand and its owner were separated, which is both cringeworthy and deeply symbolic.
As an art film that happens to be animated, I Lost My Body's main drawback for me is how open-ended it is, not offering much closure beyond what viewers choose to interpret. What does the hand represent? It's up to you, I suppose. At one point, Naoufel is criticized for not knowing another character is sick and accused of not truly caring; the film never mentions it again, so I guess the film doesn't care much either. Despite this, I've often said that I enjoy animations that can delve into mature themes without wallowing in mature content, and I Lost My Body fits that laudable mold. Amid last year's nominations, Missing Link was the weak link that should have been replaced last year, preferably with Weathering with You; while imperfect, I Lost My Body is a worthy nominee.
Best line: (Gabrielle) "Once you've dribbled past fate, what do you do?"
(Naoufel) "You try to keep away from it. You run blindly… and keep your fingers crossed."
Rank: List Runner-Up
© 2020 S.G. Liput
697 Followers and Counting