I wish life were more like the movies that end with a swift fade to black,
Where characters make their departures while still in their glory and prime,
Where stories have definite endings and rarely, if ever, come back.
(Unless they accumulate money; then it's only a matter of time.)
I wonder sometimes where my own life would warrant a "Cut!" and a "Print!"
I'm working my way to a climax, that's hopefully not when I die.
I wonder if I'm stuck in filler and wish God would give me a hint.
I trust that I'll know when I see it and hope that it will satisfy.
_______________________
MPA rating: PG
I liked Frozen when it came out in 2013. It's on my Top 365 movie list. I watched it in the theater and still think "Let It Go" is one of the best movie songs from the last decade. Yet I did put it on my Top Twelve List of Overrated Movies, not because it was bad but because it was overexposed. Disney milked the merchandise so much that it was hard to tell whether the Frozen products ever really went away before the Frozen 2 merch took their place. So it's easy to believe that Frozen 2 was made solely with profit in mind, but even if that's the case, it deserves a fair shake and appraisal on its own merits. And I must say I enjoyed this sequel about as much as the first. Like its predecessor, it's not above criticism, but it's an enjoyable return to the franchise.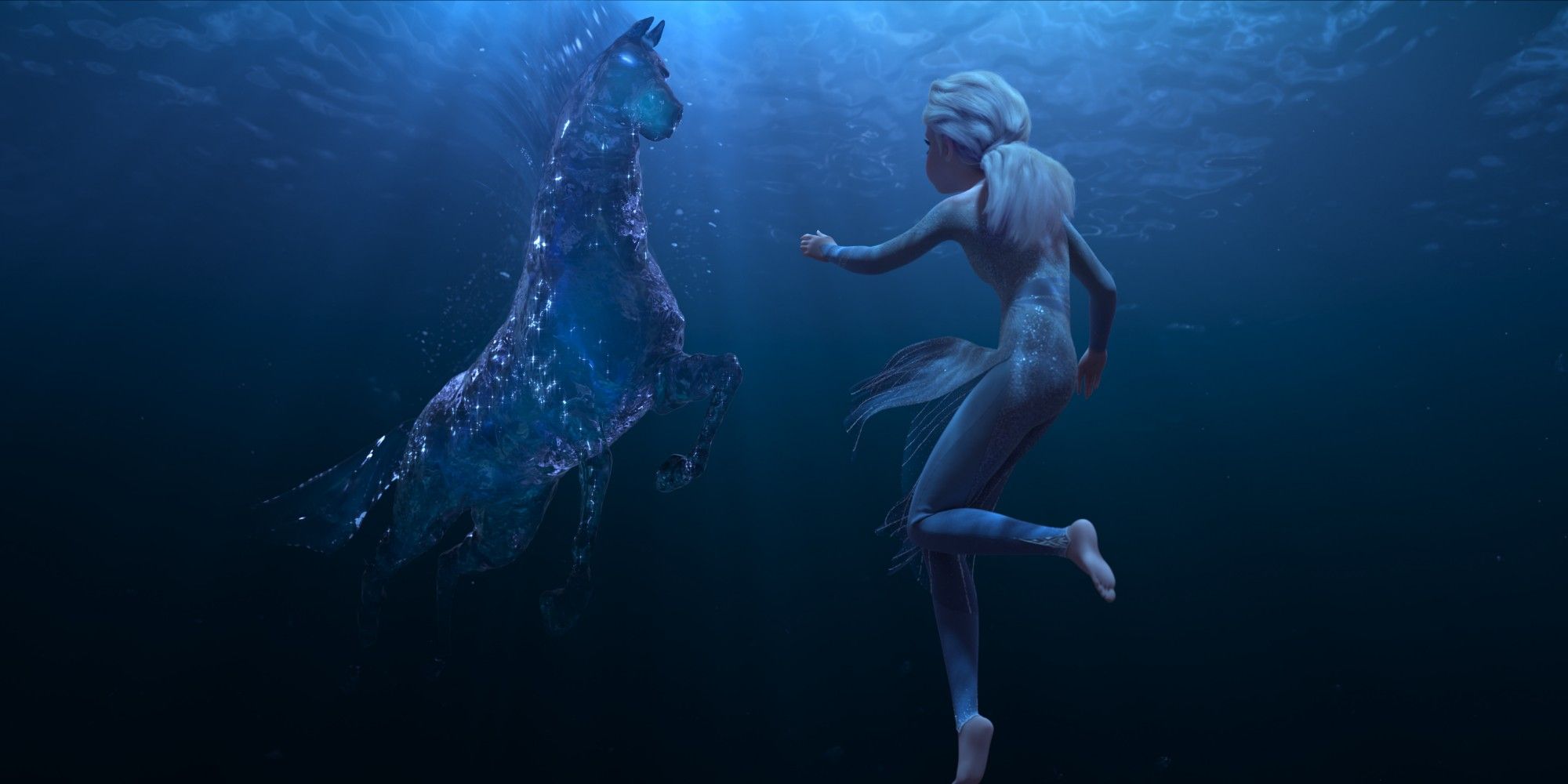 Peace has returned to Arendelle with Elsa (Idina Menzel) as queen, but a strange voice reaches out to her, drawing her to the enchanted forest to the north. And, of course, sister Anna (Kristen Bell), her boyfriend Kristoff (Jonathan Groff), Sven the reindeer, and Olaf the snowman (Josh Gad) are right at her side. The plot of Frozen 2 seems to be the aspect most criticized, and indeed it is rather convoluted with flashbacks, mysteries, and vague explanations that can boil down to a single line of dialogue and thus aren't answered as clearly as they could have been. Even so, cheap cash-ins don't usually have this kind of laudable ambition, so I still appreciated how the world and lore of Frozen were expanded, even if its parallels to real-world issues are a bit half-baked. Oh, and did anyone else think the ending is suspiciously similar to Ralph Breaks the Internet? Just sayin'.
But come now, who watched Frozen for the plot? "Let It Go" was clearly the biggest draw, so how does the soundtrack compare? The songs of Frozen 2 may not seem as good at first, but I've found they get better with repetition. (Yes, I've listened to the soundtrack at work.) "Into the Unknown" is the most "Let It Go"-ish belter for Menzel and the only one nominated for the Best Song Academy Award, and I think it was robbed at the Oscars. But "Show Yourself" has even greater power, especially in the context of the film, while "Some Things Never Change" and "The Next Right Thing" are underappreciated gems, especially the latter for its surprisingly deep and relatable lyrics. The animation at least is one aspect that is clearly on par or better than the original; from the horse spirit made of water to the gorgeous fall foliage, the animation is as lovely as any Disney movie yet. I mean, look at this art!
Frozen 2 may not have been able to replicate the original's awards, not even being nominated for Best Animated Feature (but neither was Weathering with You, so it's in good company), but it did become the highest-grossing animated film ever, assuming you don't count that Lion King remake. I still consider Elsa a bit too lacking in personality, but both films are a welcome return to the classic princess genre that so defined the Disney Renaissance of the '90s, with their strong female leads and lovable sidekicks. (Olaf once again gets the funniest scenes.) Plus, as a big fan of Norwegian singer Aurora, I was thrilled that she got such high-profile exposure being featured as "The Voice" in the film and "Into the Unknown," even if her role is just four notes. Time will tell if Frozen 2 has the same kind of staying power that its predecessor had, but it's a good way to end Disney Animation's resurgence in the 2010s. Let's hope it will continue into the next decade.
Best line: (Olaf; the irony is strong with this one) "Tell me, you're older, and thus all-knowing; do you ever worry about the notion that nothing is permanent?"   (Anna) "Uh, no."   (Olaf) "Really? Wow, I can't wait until I've aged just like you, so I don't have to worry about important things."
Rank: List-Worthy (joining the first Frozen)
© 2020 S.G. Liput
697 Followers and Counting