(Today's NaPoWriMo prompt was to write about a homemade gift, so I merged one I've given myself with the set-up of a classic '60s film.)
I asked a rich woman what she valued most
Of all the excess she possessed.
She told me of gems from the Ivory Coast,
But they were not what she loved best.
Her multiple husbands had filled her accounts
And heaped her with riches obscene.
But Fabergé eggs and saffron by the ounce
No longer enticed such a queen.
The canvas and carvings of classical pros,
Which every museum would covet,
Served only to gild both the lily and rose,
For only one thing made her love it.
A small piece of paper with "I Heart You" on it
From when her first love was dirt poor.
It quite overshadowed a jewel or a sonnet,
For less with nostalgia is more.
__________________________
MPA rating: Approved (due to some steamy romantic scenes, I'd say it straddles the line between PG and PG-13)
It's a shameful embarrassment that it's taken four months for me to finally review the first of my Blindspot picks. Life and work and a certain virus have just delayed my access to actually watching any of the twelve movies I selected at the beginning of the year, but here at last I have begun my catch-up. Before I chose my picks, my mom told me that 1964's What a Way to Go was one of my late dad's favorite movies, which surprised me because I never saw it with him or heard him talk about it. But he introduced it to her, and now she's done the same for me.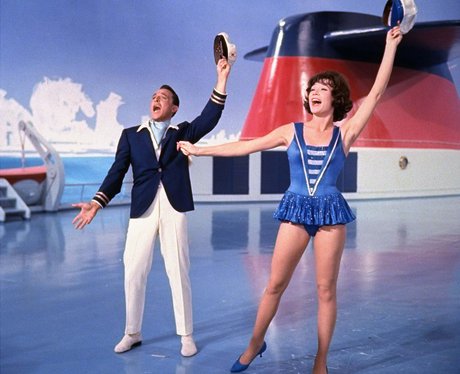 Black comedies are a difficult balance of two contrasting genres, so what would such a balance look like in the comparative innocence of a 1964 film? What a Way to Go! is the answer. Shirley MacLaine plays a young widow trying to get rid of her vast amounts of wealth, her inheritance from multiple dead husbands, and after a psychiatrist (Bob Cummings) thinks she's crazy, she recounts the varied tales of how she accidentally led her lovers to both wild success and early graves.
The best thing about What a Way to Go! is its cast: Dean Martin as a snooty playboy, Dick Van Dyke as an everyman-turned-busybody, Robert Mitchum as a suave millionaire, Gene Kelly as a talented performer, and Paul Newman (as I've never seen him before) playing a gruff expatriate. Some of the roles are tailor-made for the actor, such as Gene Kelly's presence allowing for a song-and-dance number, while others seem designed to make them play against type. It seemed odd seeing Shirley MacLaine so young and attractive when I've mainly seen her as a grumpy older lady in Terms of Endearment or Steel Magnolias, but she does a great job as the unluckily lucky widow, even holding her own alongside Gene Kelly when dancing.
Most of the goings-on are fairly silly, with the husbands' unusual (non-graphic) deaths earning more laughs than grief, including a gag that's crept up elsewhere about trying to milk a male cow. I especially liked how each marriage is compared with a different film genre, launching into a series of vignettes recalling silent comedies, foreign art films, musicals, or posh dramas with ridiculously extravagant costumes from the great Edith Head. All in all, What a Way to Go! was a delightful bit of lightweight absurdity, finding hilarity in repeated tragedy and managing to land a happy ending. It certainly looked like everyone involved had fun making it, as I did watching it.
Best lines: (announcer) "Tonight, in 'Flaming Lips,' Pinky Benson proved that a comedy can run five and a half hours. Earlier today, Pinky told us his next film will run seven and a half hours."
and
(Larry Flint/Paul Newman) "Money corrupts. Art erupts."
Rank: List Runner-Up
© 2020 S.G. Liput
680 Followers and Counting