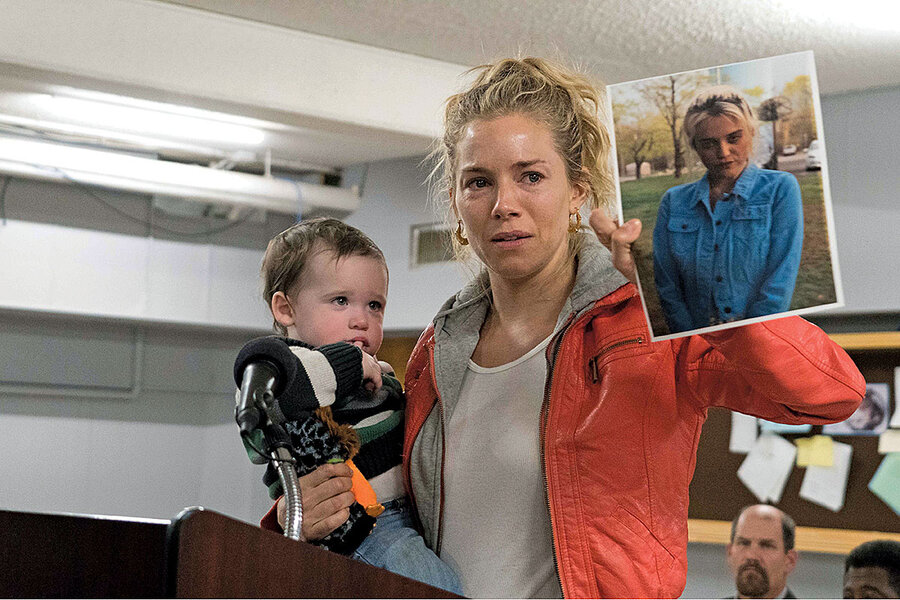 (Today's NaPoWriMo prompt was for a poem based on a news article. It seems like I've seen several headlines about missing children recently, so this film's themes seemed to fit well.)
"She's gone," they told her mother.
A day had passed like any other;
The next one dawned
And moved beyond,
And she was gone for good.
"She's missing," said the mother,
Not one to dote or smother,
For she was sure
Her daughter pure
Could still endure and would.
"She's gone," they would update her,
First weeks and then years later.
The mother knew,
Kept out of view
That deadly true falsehood.
"She's gone," and grief grew greater.
Mom crawled into the crater.
She mourned the one
Whose race was run.
She cried and understood.
________________________
MPA rating: R (all for language)
I'm not sure why I sought out this film. Perhaps I was just looking for new releases and was curious about the lauded performances, but it's not exactly my preferred kind of movie. Even so, American Woman proved to be a moving story, grounded by a committed performance by Sienna Miller.
Miller plays Deb Callahan, a small-town Pennsylvania mother in her 30s living with her teenage daughter Bridget, who has a baby of her own. One night, Bridget simply doesn't come home, leaving Deb devastated as she searches for her and raises her grandson over the next eleven years. Along the way, she gets support from her sister Katherine (Christina Hendricks) and her family and grows stronger from a series of boyfriends that prove her poor taste in men, including Aaron Paul of Breaking Bad.
Directed by Jake Scott and produced by his father Ridley Scott, this is one of those movies that feels immersively real, like you're watching how people really live and interact. However, in Deb's case, that reality often consists of white trash crudeness and much familial yelling, making it not always a likable world in which to immerse oneself. I liked Hendricks' responsible sister more than the main character.
Despite this, there are moments of genuine tenderness and growing maturity by the end, which showcases Miller's underrated acting skills. Ultimately, the film's story struck me like an episode of Criminal Minds from the perspective of the victim's family. Such crime shows are more concerned with the killer and the forensics while the loss and drama are kept largely off-screen; in American Woman, the loss and drama are the focus, leaving the rest as background information. It's a sad tale but realistic and well-acted, one I would have enjoyed more with less swearing.
Rank: Honorable Mention
© 2020 S.G. Liput
676 Followers and Counting