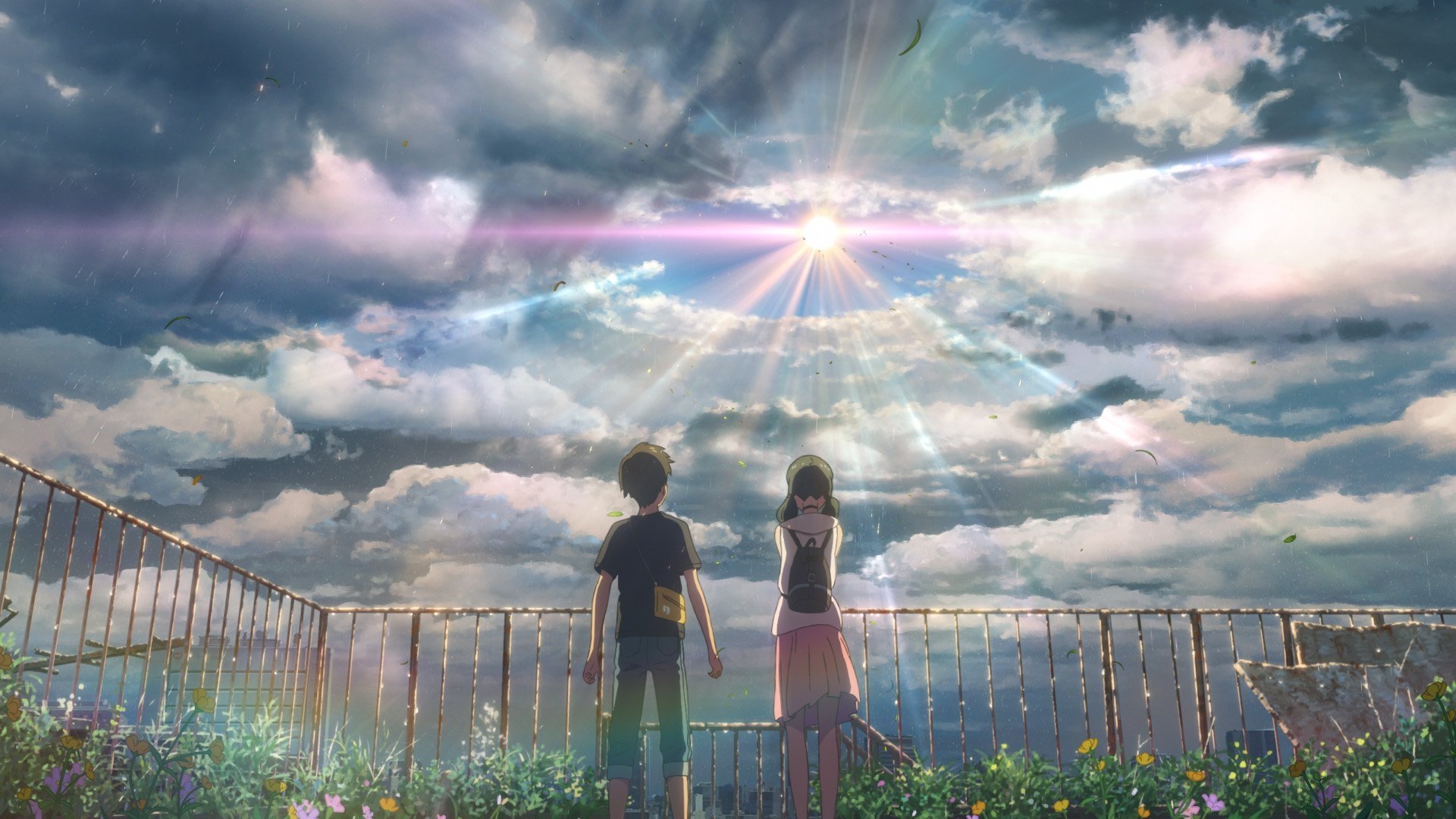 The greatest threats and greatest wonders have their source within the sky,
Tornados with their whistle cry
And rainbows ere the air is dry,
Yet next to you, the marvels there have barely even caught my eye.
The storm can crash, the thunder clap, attempting to arrest my view,
But, whether sky be black or blue,
The sun will part the clouds on cue.
The rain will never fall as hard as I have fallen now for you.
_____________________
MPAA rating: PG-13 (for peril and brief nudity)
Weathering with You was #4 on last year's list of My Top Twelve 2019 Movies I Hope Are Good, so it killed me that I had to wait until 2020 to finally see it in the theater. Makoto Shinkai had one of the toughest directorial challenges of the year, creating a follow-up to Your Name, which is still the highest-grossing anime of all time. How could Weathering with You possibly match Shinkai's last emotional, artful powerhouse? Well, it doesn't quite, but, boy, does it comes closer than I would have thought possible, leaving little doubt that Shinkai is in a class of his own when it comes to anime.
Shinkai's films have been notable for their amazingly detailed depiction of rain, in The Garden of Words especially, and Weathering with You fits perfectly in his oeuvre as the most rain-centric film yet. Hodaka is a teenage runaway, fleeing to the bustling metropolis of Tokyo with little plan and finding himself homeless in the midst of an extended rainstorm. After finding employment with a small-time tabloid publisher, Hodaka investigates the legend of the "weather maiden" (or "sunshine girl" in the very good English dub), someone whose prayers can part the clouds and bring out the sun once more. He finds her in Hina, a girl who helped him when he was struggling, and together they turn her ability into a business, clearing the weather for events. However, Hodaka's past and the secret behind Hina's ability threaten them both and possibly the world as well.
As with all of Shinkai's work, the hand-drawn visuals in Weathering with You are absolutely gorgeous, with an attention to detail that puts most other 2D animation to shame. One sequence of fireworks is awe-inspiring. Likewise, anyone who enjoyed the soundtrack of Your Name, provided by the Japanese band RADWIMPS, will be pleased at their second team-up for a Shinkai project. I'm now used to the director's music-video-like interludes that felt a bit jarring in Your Name, and they serve to highlight the songs, which in turn complement the visuals. It's a common conceit in anime openings for characters to be shown falling through the sky, often for no apparent reason; Weathering with You not only gives a good reason but makes the scene a brilliant climax of emotion and, backed by the song "Grand Escape," gave me genuine goose bumps.
Animation isn't everything, though, right? There has to be a good story and likable characters as well, and Shinkai provides those too. Hodaka and Hina aren't quite on the same level of star-crossed YA lovers as Taki and Mitsuha in Your Name, but they're still a cute pair worth rooting for, while the rest of the cast are enjoyably colorful as well, from Hina's Casanova younger brother to Hodaka's pragmatic employer. The plot does borrow some elements from Your Name – desperate running, a climactic reunion, a sudden separation that doesn't hit quite as hard this time, a supernatural cause based in Shintoism that isn't explained as well as I'd like – yet it's far from a lazy copy, more like a director in his thematic comfort zone. Shinkai has stated that the story was influenced by climate change fears, which are evident by the end even if the point being made about it isn't exactly clear, but it's interesting and gratifying how his characters make a case for the value of the individual over collective concerns, which he thought might be controversial.
Weathering with You's biggest problem is that it will inevitably be compared to Your Name, and it's true that it would probably be even more impressive than it is if it hadn't been preceded by a record-smashing older brother. (Granted, Shinkai does lean into the comparison at times, like a wink to the fans, which made me and my fellow theater-goers giddy.) Nevertheless, I thoroughly enjoyed Weathering with You and highly recommend it, even to non-anime fans. After Your Name was spurned for a Best Animated Feature nomination at the Oscars three years ago, it's a similar travesty that Weathering with You was also unjustly overlooked. It may be Shinkai's third best film in my estimation, but with charming characters, stunning animation, impactful music, and a poignant story, it's further proof of his films' greatest strengths.
Best line: (Hodaka, to Hina) "Who cares if we can't see any sunshine? I want you more than any blue sky."
Rank: List-Worthy
© 2020 S.G. Liput
660 Followers and Counting