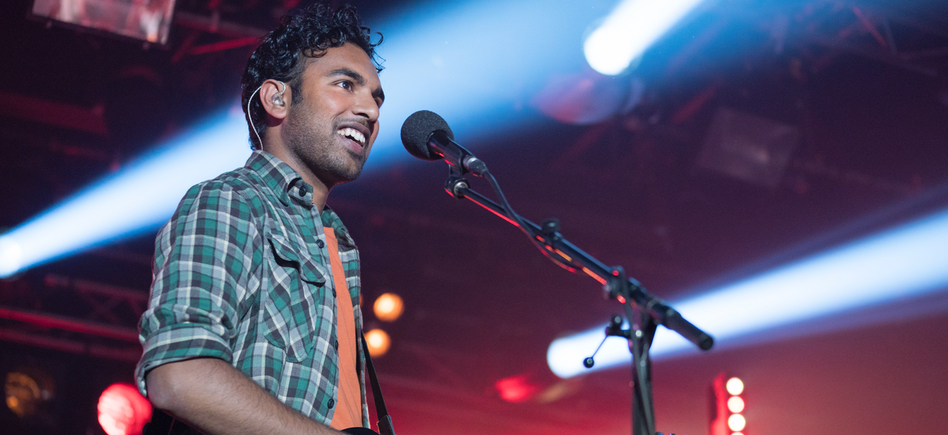 Yesterday, I knew my worth,
Which wasn't much, I must admit,
But now today, of all on Earth,
I see a hole in which I fit.
It seems that I alone can see,
Can know, can do what others can't,
And filling such a role, for me,
Is quite a gift for God to grant.
I cannot help but feel at times
That I'm perhaps a hypocrite,
But won't it be the worst of crimes
To take a gift and stifle it?
_____________________
MPAA rating: PG-13
I'm rarely the type of moviegoer who has to see a movie as soon as it comes out, unless it's some hype-heavy series like Marvel or Star Wars, but I do wish I could have seen Yesterday in the theater, not because it's that great and wonderful but because I could have seen it with my dad while he was still alive. Ever since the first trailer for Yesterday came out a year ago, I had high hopes for its brilliant premise of a musician waking up in a world where no one knows of the Beatles, especially since my dad was a huge Beatles fan. Yet as with most movies, we subconsciously decided to wait and see it on DVD, giving my dad's cancer a chance to take him before he got the opportunity. "Yesterday came suddenly," indeed.
It's hard for me not to associate this movie with the missed opportunity with my dad, but what of the film itself and its own merits? Well, it's quite a decent charmer, made better by its celebrated soundtrack. There's a popular Japanese genre called isekai, in which someone from our world is somehow transported to another, usually some fantasy realm with magic. In the case of struggling singer/songwriter Jack Malik (Himesh Patel), he awakens from a bike accident in an alternate world where significant bits of pop culture are missing, most notably the music of the Beatles. Seeing a morally gray opportunity, he passes off their songs as his own, becoming an overnight sensation and sparking mixed feelings in his long-time manager/crush Ellie (the always lovely Lily James).
Yesterday is pretty much exactly the British isekai that was promised in the trailers, but it didn't exceed my expectations much or dive as deeply into its premise as it could have. Patel and James have good chemistry, and there are plenty of occasions for unexpected humor, such as the feedback from Jack's producers about the more eccentric names from the Beatles' discography. Ed Sheeran also puts in a good-natured cameo as himself, and there's an unexpected moment toward the end that was surprisingly touching. There's just something missing, and not just that they never play "Get Back" or "Drive My Car," despite a good excuse to use the latter. It's one of those puzzling films that feels like it should be better based on its brilliant premise, yet I can't say I know how to improve it myself.
One weakness is that the songs suffer somewhat from Patel's solo covers. He's a proper singer, but without the four-person harmonies and multiple instruments, it's harder to see the strength of the songs alone rocketing Jack to the status of an overnight sensation. Nevertheless, I feel like my dad would have really enjoyed Yesterday. The strength of its core idea, likable actors and classic music are enough to make it an enjoyable, feel-good watch. There's just a lingering sense that it could have been more.
Best line: "You want a good life? It's not complicated. Tell the girl you love that you love her. And tell the truth to everyone whenever you can."
Rank: List Runner-Up
© 2020 S.G. Liput
659 Followers and Counting