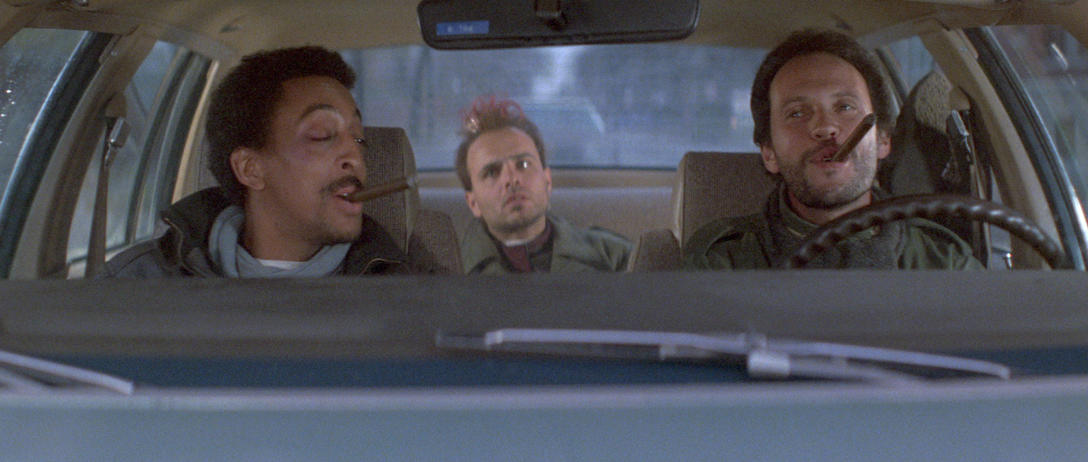 There once were two cops on the street
Who riled the bad guys they'd meet.
As crime would unfold
In their city so cold,
They quite enjoyed bringing the heat.
______________________
MPAA rating: R (mainly for language and brief nudity, a light R overall)
It's shameful, absolutely shameful, that it's been nearly three months since a movie chosen by my dear VC got the limelight it deserves in the form of an obscure blog post by me. I have no excuse, but I do have this review. Running Scared probably isn't high on anyone's list of films from the '80s, but it's a funny and underrated member of the buddy cop genre to which I'm glad my VC introduced me.
Billy Crystal and Gregory Hines are in fine form as a pair of Chicago cops named Danny and Ray, the kind of movie cops who are charming when they bend the rules in a way that ought to get them fired in the real world. But they get results, including bagging notorious drug lord Julio Gonzales (Jimmy Smits), only to be put on leave for their recklessness. Enjoying the time off down in Key West, the two decide they like the non-police life, and after learning that Gonzales was set free, they decide to bring him in before retiring for good.
Crystal and Hines were probably unlikely choices to play streetwise cops back in 1986, early in their film careers as it was, but they both excel, channeling the same kind of black-and-white buddy chemistry as Gene Wilder and Richard Pryor did. Their bickering and wisecracks are the biggest draw, complementing action scenes that likewise balance humor and danger. Joe Pantoliano is also great as Snake, one of those small-time weasels he plays so well. Running Scared doesn't revolutionize anything about its genre, but it doesn't need to when its leads are able to capture its sense of fun with their toothy grins alone.
Best line: (Captain Logan, referring to a suicide jumper) "You two weren't, uh, interrogating a suspect up on the roof, were you?"   (Ray) "We got an alibi, Captain. Snake, tell him where we were or we'll kill you, too."
Rank: List Runner-Up
© 2019 S.G. Liput
659 Followers and Counting