What a year 2019 has been! It's hard to believe it was 6 years ago today that I published my first blog post, an introduction before I started counting down my top 365 movies back in 2014. I've come a long way since then, and 2019 has been quite the catalyst year, for good and ill. This was the year I finally managed to change careers, transitioning from food service to an IT job at a major company, a dream I've long awaited.
Yet it's also been a year of endings. Besides ending the decade, 2019 marked an end/turning point for multiple fandoms, only some of which I belong to: the conclusions of the MCU's Infinity Saga and the Star Wars Skywalker Saga, as well as the series finales for Game of Thrones, Gotham, My Little Pony: Friendship Is Magic, The Big Bang Theory, Orange Is the New Black, Star vs. the Forces of Evil, Steven Universe, Mr. Robot, and many others.
Worst of all, it's the year I had to say goodbye to both my cat and my father in the same month, which has struck my family hard recently.
Yet through the highs and lows of the past year, there have always been movies to raise or crush our spirits as needed. And as with every year, it's time to tally up the best I've seen over the last 365 days and rank the heck out of them! I've seen quite a lot of good movies over that time, but not as many great ones as in years past, so this list of 20 seems smaller than in the past. I don't know if I'm becoming more discerning in my film tastes or just not seeing as many good ones, but at least I had the movies listed below to get me excited about cinema.
Please keep in mind that this is not a ranking of strictly 2019 movies, as I've never been one to see every movie as it comes out, but you can expect such a ranking later in 2020 once I've had time to catch up. Instead, this list is for all my favorite movies I've watched in 2019, whether in the theater or at home, and of course it is strictly my personal opinion and ranking. A special mention also for those List Runner-Ups that barely missed the cut this time, including Beautiful Boy, Game Night, Alita: Battle Angel, Odd Thomas, Detective Pikachu, Amadeus, I Am Mother, Anna and the Apocalypse, Baby Driver, How to Train Your Dragon: The Hidden World, and A Few Good Men (which was meant to be List-Worthy but was knocked down by the competition).
I'd love to hear your opinion, though, as well as any recommendations, perhaps of the best movies you saw in the past year as well. Anyway, on to the list!
Please Stand By (2018)
Based on its reviews, this is a movie that probably doesn't deserve to be on a top movie list, yet I couldn't help but love this Rain Man-inflected drama of an autistic girl (Dakota Fanning) making a quest to enter a Star Trek fan writing contest. Fanning offers a sensitive, human performance, and the Trek references kept this fan happy while leading to an encouraging and honest conclusion. Some movies appeal to certain people more than others, and this one appealed to me.
Dancer in the Dark (2000)
It's hard to say I loved Dancer in the Dark, just as it's hard to say I loved Grave of the Fireflies. Can you really love something that destroys you emotionally? Lars von Trier's hope-crushing tone and naturalistic camerawork are also far from my usual cup of tea, yet there's something about the earnestness of Bjork's character in this strange musical melodrama that drew me in and broke my heart as few films have.
Shazam! (2019)
From its gloomy lows, DC has made somewhat of a comeback in recent years, but I still was surprised at how much I enjoyed Shazam! While it's basically a superhero version of Big, the filmmakers found a good blend of action and humor to make this film stand on its own, and while its tone veers too dark at times, contrasting the warmth of the main character's adopted family, it's still among the DCEU's best offerings.
Green Book (2018)
The best film of 2018? Debatable but still deserving, in my opinion. Green Book is one of those unlikely friendship movies that I'm just naturally inclined to like, and Viggo Mortensen and Mahershala Ali play off each other wonderfully, the former a New York bouncer-turned-chauffeur and the latter an acclaimed pianist going on tour through the South in 1962. Critics can complain all they want, but Green Book was an entertaining delight about two flawed individuals finding friendship.
Ralph Breaks the Internet (2018)
I can't quite decide if I enjoyed Ralph Breaks the Internet more than its predecessor, but that's a good sign in my book. Ralph and Vanellope's journey into the World Wide Web offers both exuberant animation and comedy gold, particularly surrounding the plethora of properties Disney now owns. Its central conflict, devoid of villains, is also unique in how it addresses the real-life pain of friends separating. Disney's first official sequel was luckily a slam dunk.
Blinded by the Light (2019)
I've never been the biggest Bruce Springsteen fan, but in the words of La La Land, "people love what other people are passionate about." This true story of a teenage Pakistani Brit in the '80s discovering the Boss for the first time spoke to me as a poet and music lover and proved to be one of the best feel-good films of the year.
Star Wars: The Rise of Skywalker (2019)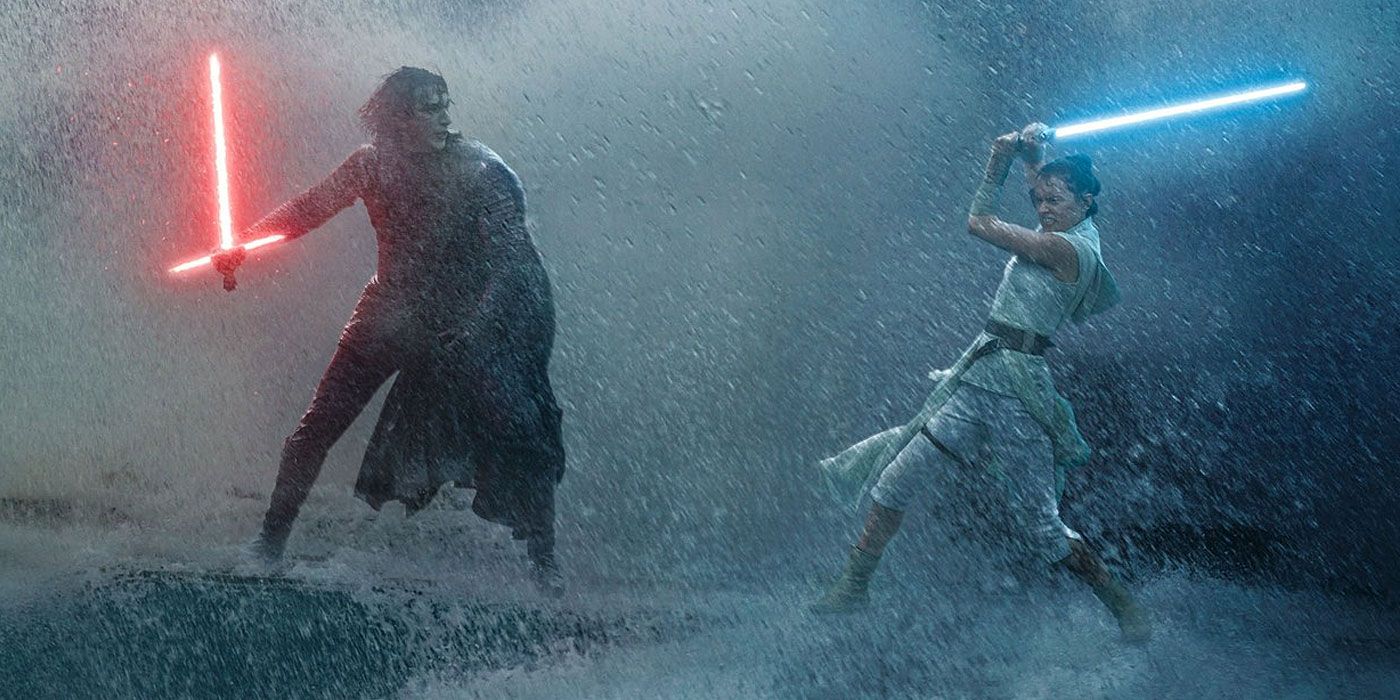 Some might recall that The Last Jedi was my favorite film of 2017, so the placement of Rise of Skywalker should indicate my more mixed but still largely positive opinion of it. Its plot holes are legion, yet I still enjoyed this final chapter of the Skywalker Saga, as I've enjoyed every Star Wars episode so far. The world, the action, and the characters make all (or at least most) of its flaws forgivable and don't detract from the entertainment value of that galaxy far, far away.
Spider-Man: Far from Home (2019)
Homecoming was neither the best nor the worst Spider-Man outing, and in the wake of Endgame, I wasn't expecting much from Far from Home. Yet this turned out to be a lovably fun palate cleanser after the high stakes of Endgame. It was not only a funny European road trip but also a way for Peter Parker and the audience to move beyond the loss of Tony Stark. (Oh, uh, spoiler alert?) With twists both predictable and surprising, it was an entertaining way to end the MCU's Phase 3.
Selma (2014)
I don't know why it took so long for me to see this Martin Luther King, Jr. biopic, but luckily my Blindspot series gave me the opportunity I needed. Powered by a tour de force performance by David Oyelowo (who was robbed for an Oscar nomination), it focused exclusively on one key chapter of King's life. Even for those who already knew the story of the Selma march, this near-perfect biopic manages to raise the tension as events play out, and it praises King while also showing him at his lowest moments.
Jojo Rabbit (2019)
Taika Waititi's humor is an acquired taste that I hadn't fully acquired until this hilarious but heartfelt Nazi satire. Young Roman Griffin Davis shines as a Nazi Youth wannabe with an imaginary Hitler for a best friend (Waititi himself), and it has a lot to say about prejudice while delivering some of the funniest lines of the year.
Mr. Church (2016)
Another film I've put off watching for far too long, it didn't take long while watching Mr. Church for me to realize that I loved it. The based-on-truth story of an in-home cook growing into a genuine member of the family he cares for was just too sweet to resist and gave Eddie Murphy his best role in years. Despite the mixed reviews surrounding it, I loved this film dearly.
Avengers: Endgame (2019)
Nothing could top the grand finale of the Marvel Cinematic Universe's Infinity Saga. After the gut-punch of Infinity War, everything hinged on Endgame, and the Russos delivered the biggest, coolest, most satisfying entry of the franchise to date. It's a rare case of sky-high expectations being handily met. Plot holes be darned; this was a great way to end a decade of superhero awesomeness.
So ends the top twelve, but the films below also earned the rank of List-Worthy this year and will be added to my Top 365 list along with the ones above.
Captain Marvel (2019)
Klaus (2019)
The Longest Day (1962)
The Magnificent Seven (1960/2016)
The Majestic (2001)
Marriage Story (2019)
Toy Story 4 (2019)
Thus, another year of movie-watching comes to a close. If you're still reading this, here are a few awards I dole out to the List-Worthy films every year.
Best opening scene: Marriage Story
Best final scene: Avengers: Endgame
Coolest scene: Avengers: Endgame
Biggest emotional impact: Dancer in the Dark
Oldest film: The Magnificent Seven (1960)
Most recent film: Star Wars Episode IX: The Rise of Skywalker (2019)
Longest film: Avengers: Endgame (181 minutes)
Shortest film: Please Stand By (93 minutes)
Best soundtrack: Blinded by the Light
Best score:  The Magnificent Seven (1960)
Best special effects: Avengers: Endgame
Most mind-bending: Spider-Man: Far from Home
Most family-friendly: Toy Story 4
Most mature: Marriage Story
Scariest: N/A
Funniest: Jojo Rabbit
Best VC Pick: A Few Good Men
Best male performance: Adam Driver in Marriage Story
Best female performance: Bjork in Dancer in the Dark
Personal favorite poem written:  Chicken with Plums
Most represented year: 2019, with ten films
I'll be posting my updated Top 365 list with these additions in the days ahead, but I want to thank everyone who has read, liked, followed, and commented over the past year. I use this blog as simply a creative outlet for my writing and love of film, but the fact that others find it worth reading is a constant encouragement for me. Thank you all, and I wish everyone the best 2020 possible!
To finish things off, here's a little look-back at the movies 2019 had to offer, for a little short-term nostalgia.