Farewell, farewell, dear love of mine.
How radiantly you did shine
When this dull world had access to
The gift of heaven that was you
Before our parting closer drew,
Propelling you into decline.
My heart already mourns within
To see your light begin to dim,
For more dynamic days than these
Are now resigned to memories
While your concessions to disease
Convince me now of who will win.
I grieve the thought of such a day
When sounds of you have waned away,
The house too quiet in the wake
Of tears that fall and hearts that ache.
Yet while you're here to still partake,
I'll love you long as you will stay.
___________________
MPAA rating: PG
I feel like the timing of this movie made it more impactful than it might have been some other year, for me personally anyway. The last few months have been rough for my family. My dad has been on chemo for about a year and has been in a steep decline recently, and our family cat was also diagnosed with a tumor, forcing us to put her to sleep soon. So maybe watching a movie about a cancer diagnosis wasn't the best idea, but The Farewell proved to be a sweet sleeper film, highlighting both cultural differences and universal themes of family.
Based on the true story of first-time director Lulu Wang, who originally told it for an episode of This American Life on the radio, The Farewell features Awkwafina (now Golden Globe-nominated) in a far more serious role than something like Crazy Rich Asians. As American-raised Billi Wang, she is heartbroken to hear that her grandmother, Nai Nai, has been diagnosed with lung cancer, as well as bewildered that her family has decided to keep the news from her, sparing Nai Nai the fear and worry that goes with it. They arrange a rushed wedding for Billi's cousin as an excuse for the family to get together and say goodbye without raising Nai Nai's suspicions, but Billi wrestles with the morality of this white lie.
Above all else, The Farewell felt real, like I was watching authentic family dynamics in an actual family crisis, the bickering among in-laws, the happy moments both forced and sincere, all the performances genuine and not too quirky to take me out of the story. The film is billed as a comedy/drama, but I question the comedy part. Aside from an occasional funny line or bit of irony, it's a largely serious tale respectful of its weighty themes, at times reminiscent of the Chinese masterpiece Yi Yi. (Based on its Globe nomination, it's also technically a foreign-language film, despite having a perhaps 70%/30% mix of Chinese and English.)
Zhao Shuzhen is a warm, good-humored, grandmotherly presence, chiding Billi as a "stupid child," which I understand translates to a Chinese term of endearment. And Awkwafina is clearly the standout role, eager to do what's best for her Nai Nai, but wary of being dishonest in the face of a terminal illness, which is apparently a widely accepted option in China. This conflict between individual rights and family values becomes a key example of the cultural disparity between East and West, which pops up elsewhere to challenge Billi and her parents on how Chinese vs American they really are.
The pace was a bit slow for my liking, but the main change I would have liked would be a closer look at the other family members, especially Billi's cousin Hao Hao (Chen Han) and his Japanese bride Aiko (Aoi Mizuhara), whose wedding is used as a cover for the family reunion. Aiko, in particular, who doesn't speak Chinese, just awkwardly follows her fiancé's lead the whole time and only gets to speak once; I would have liked some insight into how she felt about her wedding being more or less a ruse, since she and Hao Hao don't seem very close. Is the practice of lying to a sick family member common in Japan as well, making her more willing to go along with it?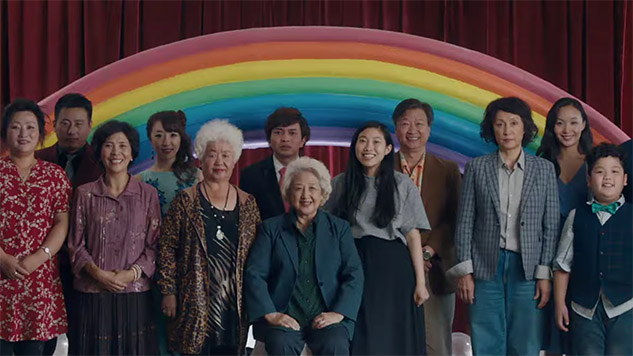 Yet by the end, the emotion of Billi's farewell is well-deserved, as a goodbye to both her Nai Nai and, in a sense, a part of her heritage. For such a culturally specific setting, the relationships feel universal, and that's something any foreign-language film (or rather film in general) should strive for.
Best line: (Nai Nai, to Billi) "I've walked the path of life, and I must tell you, you'll encounter difficulties, but you have to keep an open mind. Don't be the bull endlessly ramming its horns into the corner of the room. Life is not just about what you do; it's more about how you do it."
Rank: List Runner-Up
© 2019 S.G. Liput
655 Followers and Counting