There are people who thrive in the hustle and bustle
Of populous cities that never slow down.
The traffic and masses sustain like a muscle
That can't stand the thought of a do-nothing town.
Yet others, like me, prefer tapping the brake.
For us, the slow motion is no handicap.
I'll visit a city, but home I will make
In a place that's not easily found on a map.
Such do-nothing places do more than their share,
Preserving the values that all nations need.
We listen and learn more in quieter air;
We merely must slow down enough to take heed.
_______________________
MPAA rating: PG (has occasional language but pretty clean overall)
Why have I not seen this movie sooner? The Majestic has been in my Netflix queue for a while now, but it feels like the kind of movie I should have seen when I was 12, largely clean and with a valuable message that has only gained in social importance. As a fan of The Truman Show, I was mainly curious to see Jim Carrey in another serious role, and, as with the other film, The Majestic ranks among his very best, making it a shame that its poor box office likely turned him and director Frank Darabont away from developing similar movies.
The year is 1951, and Hollywood screenwriter Peter Appleton (Carrey) is dumbfounded when his promising career is stalled by the Second Red Scare, leaving him blacklisted and expected to testify before Congress as a potential Communist. In his despair, he has an accident, waking with amnesia near the small town of Lawson, California. There, he is mistaken for Luke Trimble, the war hero son (thought to be dead) of the local theater owner (Martin Landau), who welcomes his long-lost boy home. Over time, he bonds with the town, grows closer to Luke's girlfriend Adele (Laurie Holden), and helps breathe life back into the family theater, the Majestic, yet you know it is not meant to last. (I can't help but mention David Ogden Stiers, whose presence in the small town visited by a humbled would-be hot shot immediately brought to mind the similarity with Doc Hollywood.)
Throughout The Majestic, I was trying to figure out how I felt about it and kept settling on "it depends." It depends how the lie/mistake is revealed. It depends how all this Communist finger-pointing plays out. I just wasn't sure where the film would ultimately end up, so I couldn't decide if I truly liked it or not, wavering on the edge between List-Worthy and List Runner-Up. By the end, though, I was sure. Despite my unease, it definitely stuck the landing. The climax, a culminating speech before the House Un-American Activities Committee clearly echoing Jimmy Stewart in Mr. Smith Goes to Washington, is an absolute standout scene, made even more powerful by its extreme timeliness. At a time with so many fingers being pointed and voices being silenced, it's a cinematic plea for Constitutional truth, tolerance, and patriotism that should be seen by every American.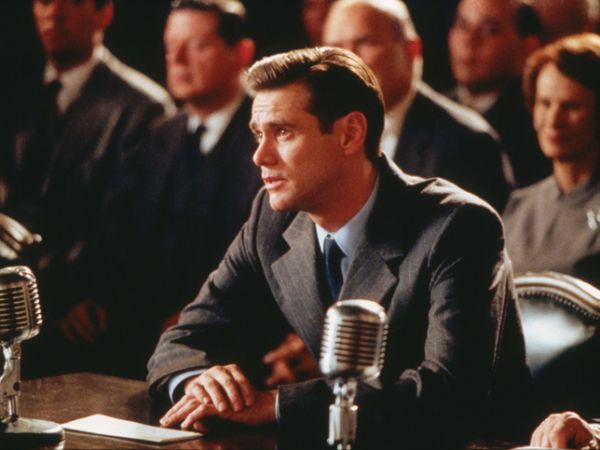 Frank Darabont was clearly channeling Frank Capra with this movie, and just as Capra's movies were derided at the time as "Capra-corn," The Majestic didn't fly with critics wary of anything remotely sentimental, which is a crying shame. I'll admit it's a bit too long and predictable, but it's also an endorsement of nostalgia, decency, and the magic of movies, with emotional performances and strong direction throughout. It's modern Capra-corn, and, when it's done this well, there's nothing wrong with that.
Best line: (Peter, speaking to Congress) "That's the First Amendment, Mr. Chairman. It's everything we're about if only we'd live up to it! … It's the most important part of the contract every citizen has with this country. And even though these contracts – the Constitution, and the Bill of Rights! – even though they're just pieces of paper with signatures on them, they're the only contracts we have that are most definitely not subject to renegotiation… not by you, Mr. Chairman… not by you, Mr. Clyde… Not by anyone, ever. Too many people have paid for this contract in blood!"
Rank: List-Worthy
© 2019 S.G. Liput
655 Followers and Counting