When the dust of the town seems to tremble with dread
As it blows and remembers becoming blood red
The last time that many a cowardly head
Ducked down as a bully drew near,
When fingers are itchy and tempers are short,
When fight makes you foolish and flight makes you sport,
And no one is willing, in street or in court,
To hazard their life and career,
When violence is common and wounds are left raw,
And only a few have the courage to draw,
It's they who must lay down an unbending law
And clear the frontier of its fear.
_______________________
MPAA rating: PG-13
It's been far too long since I gave my dear Viewing Companion (VC) a chance to pick a movie, and after her choice of Tombstone several months ago, she wanted to compare it to Kevin Costner's competitor Wyatt Earp. Released just a year after Tombstone, which centered solely on the events surrounding the famous gunfight at the O.K. Corral, Wyatt Earp sought to differentiate itself by painting a much broader picture of Wyatt's entire life, from his childhood to his later years.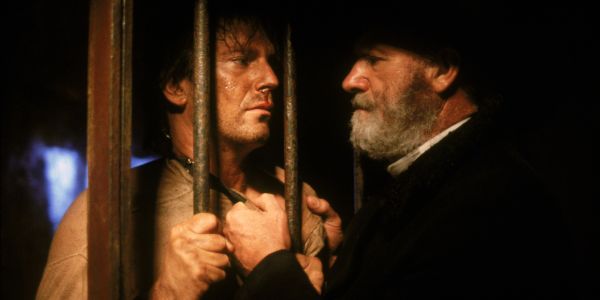 For anyone wondering up front, Tombstone is easily the better film (albeit more violent), as the Rotten Tomatoes scores of both will attest. Whereas Wyatt Earp is expansive and rambling, with the O.K. Corral as just another event among many in Earp's life, the limited scope of Tombstone makes it much more focused, as well as an hour shorter than Wyatt Earp's exorbitant three-hour-plus runtime. (Honestly, it might have worked better as the miniseries it was originally planned to be.)
But all that's not to say that Wyatt Earp doesn't have its merits. My VC called it "an admirable attempt" at presenting Earp's full story, and it did give more insight into what formed him into the cold and fearless lawman he became. Story elements like his tragic first marriage or how his father (Gene Hackman) saved him from a particularly low period in his life certainly add to his character, with details Tombstone didn't have the time or inclination to include. Plus, the performances are solid throughout with an all-star cast to rival that of Tombstone. I must mention the Lost alert for Jeff Fahey as Ike Clanton, but many will also recognize Mark Harmon, Jim Caviezel, Bill Pullman, JoBeth Williams, Isabella Rossellini, Catherine O'Hara, Tom Sizemore, Adam Baldwin, and Tea Leoni. And I mustn't forget Dennis Quaid as the TB-ridden Doc Holliday, with Quaid's commitment evident in how gaunt and sickly-looking he became for the role.
Everyone does a fine job in the acting department, but again they rarely compare with their Tombstone counterparts. As well as Quaid does, he's no match for Val Kilmer's career-best role as Holliday, just as Kurt Russell overshadows Costner, though I can see Costner's darker interpretation being more true to history. The friendship between the two of Earp and Holliday is definitely better defined and presented in Tombstone.
Yet it's mainly in the comparison that Wyatt Earp falls short; on its own, it's still a good film with more than a few strong moments exemplifying Earp's tough-as-nails persona. James Newton Howard's sweeping score also elevates it as a western. If you can get Tombstone out of the back of your mind, Wyatt Earp proves to be a comprehensive and well-produced history lesson, with plenty of creative license that acknowledges how history becomes legend.
Best line: (Doc Holliday) "Dave Rutabaugh is an ignorant scoundrel! I disapprove of his very existence. I considered ending it myself on several occasions, but self-control got the better of me."
Rank: Honorable Mention
© 2019 S.G. Liput
608 Followers and Counting