Mother of mine,
What a trial you bore
When I, in my infancy, cried more and more!
Mother of mine,
How obliviously
Did I take for granted your keeping of me!
Mother of mine,
What a fool you held near,
No thought for a thank you, no room to revere!
Mother of mine,
How ungrateful was I
When I was at last old enough to defy!
Mother of mine,
What regret I now feel
For waiting so long for my thanks to be real,
That love all too often I tried to conceal,
That raising me had to be such an ordeal.
Mother of mine,
How I wish you to know
The love that I should have returned long ago!
_____________________
MPAA rating: Not Rated (should be PG-13 for some violence and mature themes, though nothing too explicit)
From early in 2018, I thought that Mirai would surely be the anime film of the year, but no, it's not. That title goes to Maquia: When the Promised Flower Blooms, a film I had no idea had already come out until I heard about it from Rachel of Reviewing All 56 Disney Animated Films and More! The description alone had me desperate to see it: a high fantasy tale of an immortal girl adopting a human baby. I tried to avoid spoilers at all cost, but everything I read about this cross between Lord of the Rings and The Age of Adaline, including its growing reputation as an all-out tearjerker, only heightened my excitement. With its 100% on Rotten Tomatoes, it looked like a film I was destined to love.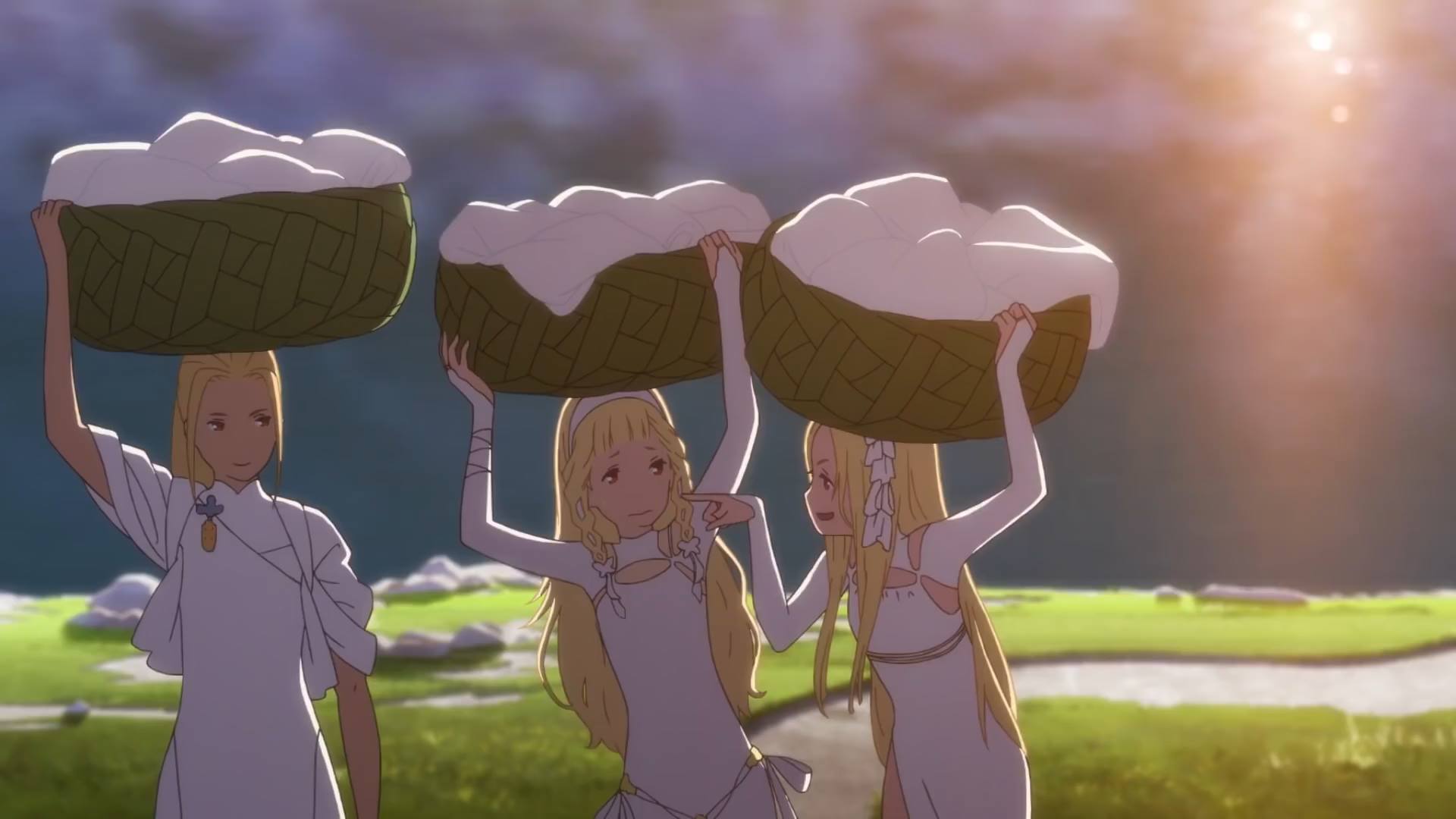 Finally, I got to see it, and though my expectations were high, Maquia met them. This may be writer/director Mari Okada's debut film, but her first movie is a humdinger in both its emotional impact and its fantasy world-building. The titular Maquia is an orphan of the lorph clan, a small race of people who live for centuries with no aging and record their lives and histories by weaving cloth called Hibiol. A neighboring kingdom invades, taking most of the lorph captive, but Maquia escapes in despair, only to stumble upon an orphaned baby boy she names Ariel. Although she is alone, knows nothing of motherhood, and was expressly warned never to love a mortal lest she endure true loneliness, Maquia raises the child as her own, and…sniff… you'll just have to watch it for yourself.
Anime has some amazing mothers to its credit, from Hana in Wolf Children to the mom in the tenth episode of Violet Evergarden (another tearjerker of 2018), but there's something special about Maquia. She shares no blood or background with Ariel, not even fully understanding the physical realities of motherhood, and yet in her efforts to be a good mother, she shines as few parents do in any medium. She struggles with the task, especially as Ariel grows older while she remains the same, becoming a constant reminder that he was adopted, but she takes to heart the lessons taught by others that moms will do anything for their children and that "moms don't cry."
As much as I wish I could call it a faultless film, Maquia is not without some weaknesses. There's an extended subplot concerning two of Maquia's lorph friends, whose paths in life are far more oppressive than hers; enduring rape and imprisonment, they serve as a contrast to the love that Maquia finds, and while their struggles remained interesting and sympathetic, I wouldn't say they were resolved in an entirely satisfying way. Plus, one jump in time left me unsure what was going on, dropping some uncomfortable implications and keeping its full context vague.
Despite these gripes, Maquia is a beautiful film on multiple levels, from its tender moments to its exceptional animation to its affecting soundtrack. Its rich fantasy world of warring nations and dying dragons offers several striking settings reminiscent of Middle-Earth, and its themes of love and parenthood go straight to the heart, demonstrating how children can have just as much of an impact on their parents as the other way around. Plus, there's hardly any of the stylistic exaggeration typical of anime, making it a film that fantasy lovers who may not be into anime should be able to enjoy as well.
I don't cry easily these days. Only two anime have left me sobbing before, and Maquia makes it three. I've mentioned that some sad films like The Wind Rises seem to almost pull back from full-on tearjerker mode for whatever reason; Maquia does not. I wept bitterly, though for different reasons than something like Grave of the Fireflies. There's a scene at the end that mercilessly kicks your heartstrings while kissing them tenderly, and it still haunts me. I said yesterday that Mirai made me want to hug my mom; Maquia did the same times eleven. That's why, for me, this is the anime of the year. The film itself represents its theme of pain being an integral part of love, a bitterness made sweet by all that came before.
Rank: List-Worthy
© 2018 S.G. Liput
600 Followers and Counting!