Surely luxury entails
Safety in its fine details.
Once you're paying through the nose
You need not doubt the practiced pros.
Once your travel's well along,
Who'd dare think something might go wrong?
How could pride descend to panic?
Ask the Hindenburg and Titanic.
_________________
MPAA rating: PG
One of the many disaster movies of the 1970s, The Hindenburg will never go down as one of the best of its genre, but it's by no means among the worst either, despite the pretty scathing reviews it has endured over the years. My VC happens to be quite fond of it, and while her appreciation dwarfs my own, I still consider it a solid film made memorable by its spectacular climax.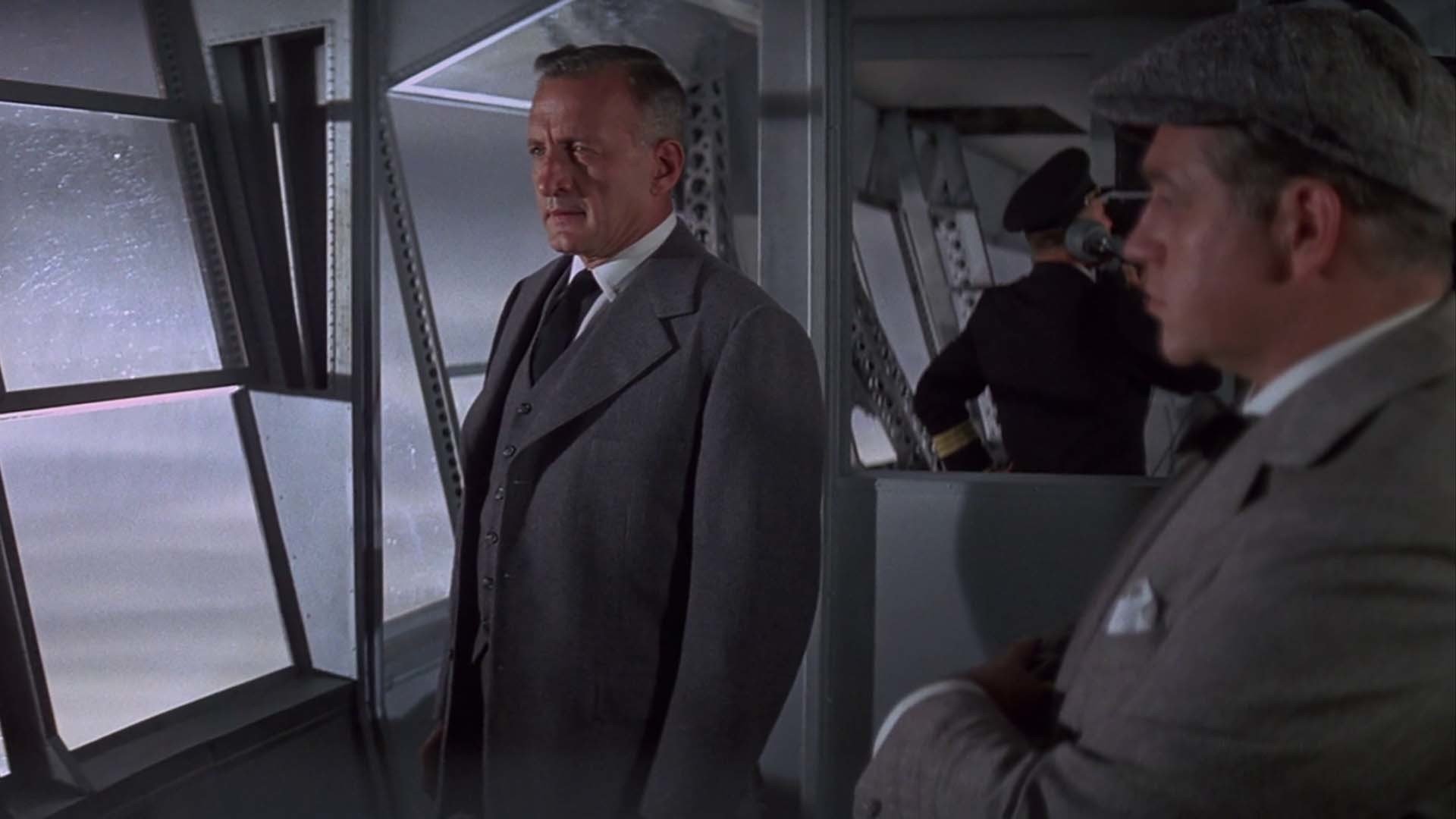 One thing everyone should know going in is that this movie is historically inaccurate on many fronts, despite a largely faithful re-creation of the airship itself and a collection of characters based on real people. The main character is Colonel Franz Ritter (George C. Scott), a decorated German air officer who is tasked by Goebbels with preventing a threatened attack on the Nazis' prize zeppelin, which flies with highly flammable hydrogen rather than helium. While many theories have been proposed on what caused the Hindenburg's destruction, the movie goes the resistance conspiracy route, which has never been proven but works as a potential reason for what happened.
Scott does well as usual, and the fact that he plays a Nazi is mitigated by his distaste for the regime in light of some recent tragedies. The rest of the cast is full of recognizable names and faces, all of whom are suspects in Ritter's investigation, including Anne Bancroft as a countess he knows, a young William Atherton as an airship crewman, and René Auberjonois and Burgess Meredith as a pair of gamblers. Having watched a lot of Everybody Loves Raymond recently, I also spotted two recurring stars in Katherine Helmond as a passenger and Charles Durning as the Hindenburg's captain.
The build-up during the zeppelin's flight, as Ritter scrutinizes everyone's motives and opportunity, is unavoidably slow, but the tension does grow as the voyage comes to its historical end. The suspense is a lot like Titanic in that you know generally what will happen and are just waiting for the shoe to drop, and it's worth it when it does. The Oscar-winning effects are dated but still impressive, and the re-creation of the accident is chaotic and brilliant as the screen fades to black-and-white and seamlessly works in real footage of the Hindenburg's crash, ending with the iconic radio recording of a terrified onlooker. It's a case where the last ten minutes makes the rest worthwhile, but you could also just watch the last ten minutes, sacrificing context to save time. Either way, despite being in a film full of historical liberties, it's an excellent disaster sequence, which alone ought to disprove this film's harsher critics.
Best line: (Captain Lehmann, ironically as they set off) "I'm to go to Washington to get us helium."   (Ritter) "I wish we had it this trip."
Rank: Honorable Mention
© 2018 S.G. Liput
574 Followers and Counting