Nineteen films in Marvel's canon, fruit of planners' careful plannin',
And though some are sick of fandoms,
I am still a fan extreme.
So to honor them and thank them, now seems like the time to rank them,
Using Edgar Allan Poe's "The Raven"
For my rhyming scheme.
Just so everybody knows, regardless of where each one goes,
I like them all, both highs and lows.
(And poems are just more fun than prose.)
#19:  The Incredible Hulk (2008)
At number nineteen in the listing is one barely still existing
In the continuity
Of Marvel's growing universe.
Edward Norton as Bruce Banner had the acting chops and manner,
But the climax was all smashing,
Which got tedious or worse.
It's better than the green banana that had featured Eric Bana
But still feels unripe so, man, a-
Nother recast was in store.
William Hurt has since been spotted, but the hints with which it's dotted
Might as well have not been plotted
And should come back nevermore.
#18:  Iron Man 2 (2010)
Iron Man put Marvel soaring, but its sequel left some snoring,
Dragged down by two villains boring,
Both in need of better scripts.
Poisoned by his source of power, Tony's mood was often sour,
But he managed still to win
When Russian Mickey Rourke made whips.
Still though, ScarJo as Black Widow made her entrance, and she did so
Well that most will only think
Of her debut and not the rest.
Rhodey gets a suit for blasting, none the worse for his recasting,
And Don Cheadle has proved lasting
Past the Terrance Howard test.
#17:  Thor (2011)
Then came Thor with smashing hammer, lifted up by Branagh's glamor,
Boasting bold Old English grammar
And Chris Hemsworth's muscled bod.
Visually, Asgard was stunning, and we love Loki so cunning,
But the plot was just too simple:
Humbling the thunder god.
New Mexico no doubt did smile as the place of Thor's exile,
Where he learned to face the trial
Of his selfless worthiness.
I like Thor's supporting players, and the myths have many layers,
But only in its outward airs
Was this Thor able to impress.
Still important? Yeah, I guess.
#16:  Iron Man 3 (2013)
Avengers rocked the whole box office, praised by all except some sophists,
So Phase 2 kicked off for Marvel
With another Iron Man.
Traumatized and shaken Tony, grown from being glib and phony,
Offers honest testimony
Where his lowest point began.
Kingsley's villain is scene-stealing till we get to his revealing
That he's merely double-dealing,
Just a hack to fool the press.
Well, it worked, and it's disjointing, baffling, and disappointing,
As is Tony's final act,
Progress but dumb nonetheless.
Yet the rest meets with success.
#15:  Black Panther (2018)
Don't discount my rare opinion, thinking I'm some racist minion.
No one race deserves dominion
Over superhero flicks.
As the first black solo story, yes, Black Panther meets with glory,
Breaking in new territory,
Adding to the Marvel mix.
Yet Wakandan mysticism paired with governmental schism
Drew from me some criticism
While from others gaining praise.
Sister Shuri and the action still earned positive reaction,
And, though others have more traction,
This film had a trail to blaze.
#14:  Thor: The Dark World (2013)
Keeping Phase 2 sequels going, Thor 2 showed the stakes keep growing
As the first time that the whole dang
Universe was jeopardized.
Fantasy continued merging with sci-fi, like worlds converging
As dark elves pursued the purging
Of the light they so despised.
True, it won't impress Criterion, but the tone is still Shakespearean,
And both Thor and Loki shine
As they develop their rapport.
Next to Thanos or the Joker, Malekith is mediocre
As a villain. "Who?" you say,
Which just confirms my comment more.
#13:  Thor: Ragnarok (2017)
Recently, the god of thunder suddenly has fallen under
Comedy, and fans have wondered
Where the gravity has gone.
Yet most others have ceased caring, caught up in the funny pairing
Of both Thor and Hulk, not sparing
Any joke to fall upon.
When his sister shows she's greater, Thor becomes a gladiator
Under Goldblum the dictator,
Yet his humor pulls him through.
Losing hammer, home, and hair, plus friends you may not know were there,
May seem to be a bleak affair,
Yet laughter keeps the sad from view.
#12:  Spider-Man: Homecoming (2017)
After Garfield and Maguire, did the universe require
Yet another Spider-Man
To swing his webs and quips galore?
Maybe so, because Homecoming kept young Peter Parker humming,
And we knew that he was coming
Since he was in Civil War.
(Want a fourth? Please, nevermore.)
Born from Disney's deal with Sony, this young Spider now has Tony,
Gifting high-tech Spidersuits
To mentor over-eager Pete.
With its youthful high school setting and no Uncle Ben regretting,
It's a new and fun resetting,
Not the best but no mean feat.
#11:  Doctor Strange (2016)
From the tech so futuristic, Marvel moved on to the mystic
With a dose of surrealistic
Imagery to help us cope.
Cumberbatch proved quite appealing as a doctor seeking healing,
Whose whole world is set to reeling,
Much like a kaleidoscope.
Yes, it's effortless equating Strange's rehabilitating
With one Tony Stark and rating
Iron Man as first and best.
Visually, though, eyes were popping, just as many jaws were dropping.
Marvel showed no signs of flopping,
Always leaving us impressed.
#10:  Avengers: Age of Ultron (2015)
I don't mean to be a hater, since I do enjoy James Spader,
But in looking back years later,
Age of Ultron is a mess.
Triumph was not guaranteed in this great challenge for Joss Whedon,
Yet he made the mess proceed in
Good directions, more or less.
Lots of characters to juggle, hints at future tales to smuggle,
All of it proved quite the struggle,
Even for his cleverness.
Ultron left a weak impression, but the heroes in procession
Still were awesome, since (Confession!)
I'm a geek, but I digress.
#9:  Guardians of the Galaxy (2014)
Of their many near disasters turned to gold by Marvel's masters,
This one shocked the best forecasters
Who thought surely this would flop.
Talking trees and troublemakers and raccoons were no dealbreakers;
No, these misfit moneymakers
Proved too humorous to stop.
With its crowded plot subverted by pop culture jokes inserted,
Seventies pop songs diverted,
Making Guardians a fave.
Though not every wisecrack landed, Marvel's world was well expanded,
And this superteam commanded
Special props for being brave.
#8:  Ant-Man (2015)
Yet another risky venture, Marvel's miniature adventure
Brought an original Avenger
From the comic to the screen.
Though its brethren may stand taller, I appreciate the smaller
Scale and silliness of Ant-Man,
Still with sights we'd never seen.
Paul Rudd's both sincere and silly next to Lost's Evangeline Lilly,
As he rides on ants (yes, really),
For a heist by shrinkage done.
While its physics call for bending, Ant-Man's lark is worth commending.
It's a romp or runt depending
On the viewer's sense of fun.
#7:  Guardians of the Galaxy Vol. 2 (2017)
Sequels can be tricky notions, preying on the fans' devotions.
Some say this went through the motions,
But I favor Volume 2.
There's more leeway to admire characters established prior,
And its fun flies slightly higher
Than its predecessor flew.
Mantis is a great addition, while Kurt Russell's opposition
As Quill's father made his mission
Quite the father/son dispute.
Drax's laughing is contagious, and the action's still outrageous,
But its poignancy engages.
Plus, I just love Baby Groot.
#6:  Captain America: The Winter Soldier (2014)
As you might guess from his placing, Cap's one hero I'm embracing,
And his second film's great pacing
Helped it merit much acclaim.
As a proven HYDRA hater, Cap was branded as a traitor,
And one elevator later,
He set out to clear his name.
Verifying comic theories, this one's vast conspiracies
Rippled through both film and series,
Changing Marvel's status quo.
Steve and S.H.I.E.L.D. were still quite lucky, more than poor, reprogrammed Bucky,
And to helm it, Marvel welcomed
Anthony and Joe Russo.
#5:  Iron Man (2008)
Iron Man initiated all that Marvel's since created,
With a movie that predated
Disney's lucrative control.
Downey, Jr.'s star selection was, in casting terms, perfection,
Serving as a nice reflection
Of the actor in the role.
Gwyneth Paltrow and Jeff Bridges kept the central cast prestigious.
(Rhodey, though, would be recast,
With ol' Don Cheadle in the wings.)
Tony's origins so winning got the MCU to spinning.
Solo story, grand beginning—
Iron Man was many things.
#4:  Captain America: The First Avenger (2011)
Though Iron Man was the go-getter, origins don't get much better
Than the fourth but First Avenger
In the Marvel pantheon.
World War II was recreated, screaming classic but not dated,
And Steve Rogers' motivated
Hero showed both brains and brawn.
Of all baddies you could fill in, Nazis are an ideal villain,
And for girlfriends, Agent Carter
Still remains one of the best.
Though not quirky or exotic, Steve's so sweet and patriotic,
Standing up to those despotic,
That he stands above the rest.
#3:  Avengers: Infinity War (2018)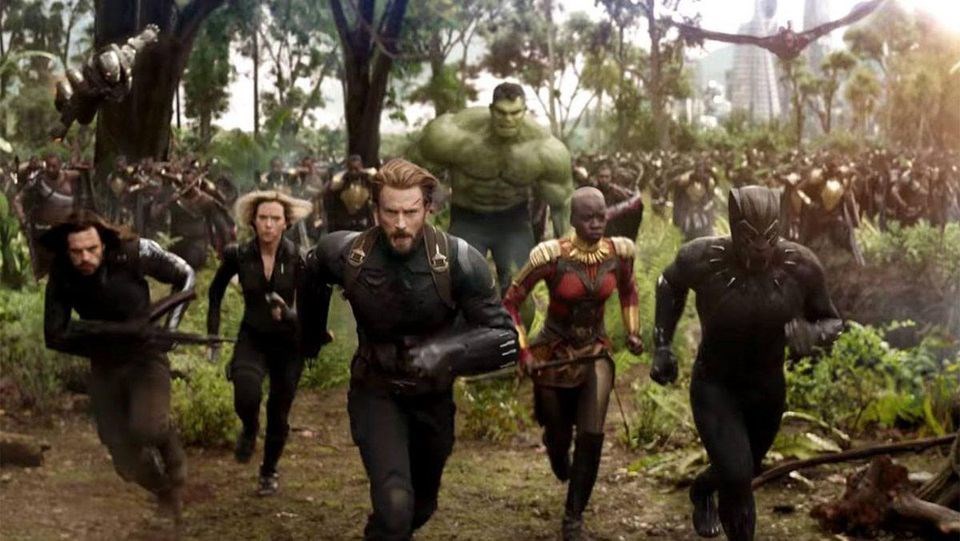 One whole decade in the making, bigger if not quite groundbreaking,
There is no doubt or mistaking
Marvel's tour de force so far.
No more just a brief inclusion, Thanos dreams of one conclusion,
Boasting views downright Malthusian,
If he only had the Stones.
So much epic superteaming, such high stakes no higher seeming,
Fruit of all of Marvel's scheming,
Nerdwise, this film made our day.
Though it gave us all we wanted, viewers might not leave undaunted.
I walked out less thrilled than haunted,
Part 2 still one year away.
#2:  Captain America: Civil War (2016)
"Avengers" isn't in the title, since Steve Rogers is most vital,
But all members are not idle
In this epic civil war.
Ant-Man helps with Cap's resisting, Spider-Man swings in assisting,
And Black Panther joins the listing,
All with ends worth fighting for.
Nuanced in its controversies, vengeful spats, and moral mercies,
Civil War left this fan thirsty
For whatever would come next.
Once more, status quo was shattered, favorite heroes sad and scattered.
Next to others, this one mattered.
Give those Russos my respects.
#1:  The Avengers (2012)
Phase 1's awesome culmination, The Avengers earned ovation.
(I saw it post-graduation,
Very fondly I recall.)
Team-ups were a new sensation, this one passing expectations,
Building on its strong foundations,
One big balanced free-for-all.
Geniuses and egos clashing, aliens and buildings crashing,
Every hero still proved smashing.
(Who wants shawarma? Anyone?)
Whedon's dialogue was clever, which surprises no one ever,
And their first combined endeavor
Still is Marvel's most well-done.
Thanks to anyone persisting, finishing my Marvel listing.
Let me know what you may think.
No need to write in verse, though. *Wink*