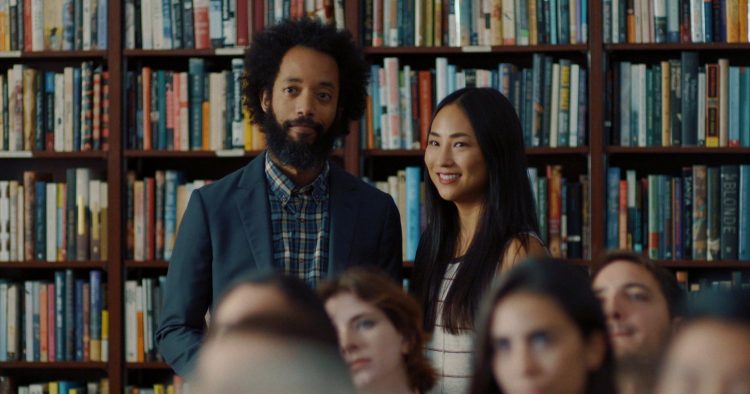 (Today's NaPoWriMo prompt was to experiment with line breaks, so I incorporated long and short lines in a poem more about writer's block than about this movie.)
Inspiration grows, composed through joys and woes in verse and prose;
From lows, it rose, and now it flows as dominoes fall unopposed,
But then
It froze.
I'm blank,
I fear,
As tears
Appear.
What if this fog
'Twixt my ears
Won't clear
For years,
My writing gears
Caught in arrears.
Goodbye, career
And world premieres!
How can I ever
Persevere?
My knack's off track; in fact, my lack of active tact deserves a smack.
To lose my muse eschews breakthroughs. What gruesome news!
Oh, wait,
It's back!
____________________
MPAA rating: Not Rated (should be R)
As this selection from last year's South by Southwest illustrates, I think comedies that come from film festivals are obligated to be described as quirky. Quirky can range from sweetly unusual to downright bizarre, but Fits and Starts hits a good balance between the two and focuses on themes that any aspiring writer (like me) should relate to with amusement.
The film's aspiring writer is David Warwik (Wyatt Cenac), a former professor who remains deeply unconfident in his unpublished novel while his wife Jennifer (Greta Lee) rakes in acclaim with her second book release. Despite David's objections, Jennifer insists they go to her publisher's salon, a social party of creatives and publishing people, both amateur and professional, yet circumstances force David to go by himself and meet every funny and weird cliché of the artistic elite.
David himself seems odd at first, neurotic and prone to putting his foot in his mouth, yet I could still relate to his desire to just write, without "playing the game," all the networking and schmoozing that it apparently takes to get published. His jealousy toward Jennifer's success brought to my mind Chevy Chase in 1988's Funny Farm, another movie where the writer husband is overshadowed by his wife. Cenac and Lee have surprisingly good chemistry too, able to launch equally defensible accusations at each other while arguing yet also becoming a cute couple when things blow over.
By the time David gets to the salon and interacts with all the upper-crust crazies, it's easy to connect with him as the only normal person in the room. I'll admit I laughed more than I expected to at the insightful caricatures he encounters, like the critic telling him he needs to change his name to something metallic or the creatives discussing ridiculous ideas like they've discovered the next great gift to humanity. Some humor also comes from a pair of sarcastic policemen and a multitalented opera singer, but beyond the mere jokes, there's also worthwhile satire with a point, from the liberal shallowness of the art world to how David can't get a straight answer from a publisher who clearly didn't like his novel.
Unfortunately, there's also some mature content, between the foul language (not as frequent as The Big Sick, though), an obscene drawing, and some nudity, largely from the back or from a distance. I could have done without those, but I still enjoyed Fits and Starts for its satire and its ultimately gratifying depiction of David and Jennifer's marriage. I especially enjoyed how David's frustrations eventually boil over into one big renunciation of the absurdities he's endured at the party, choosing instead to value his wife and his love of literature over the others' superficiality. As the name might imply, the quirkiness of Fits and Starts doesn't always hit the mark, but it hit many of the right places for me.
Best line: (guy at party, as David overhears nearby) "You know, I'm thinking of moving to Detroit."
(girl) "My friend Jeremiah moved to Detroit, and he got shot in the face."
(guy) "Oh, my god. Jeremiah Boobar?"
(girl) "Yes, two weeks ago, he moved to Detroit and got shot in the face."
(guy) "Did you go to the funeral?"
(girl) "No. Funeral? He's alive and kicking. He's gonna make a documentary about it, you know."
(guy) "Where did he get the funding?"
(girl) "Indiegogo."
(guy, after a pause) "I want to get shot in the face."
Rank: List Runner-Up
© 2018 S.G. Liput
550 Followers and Counting