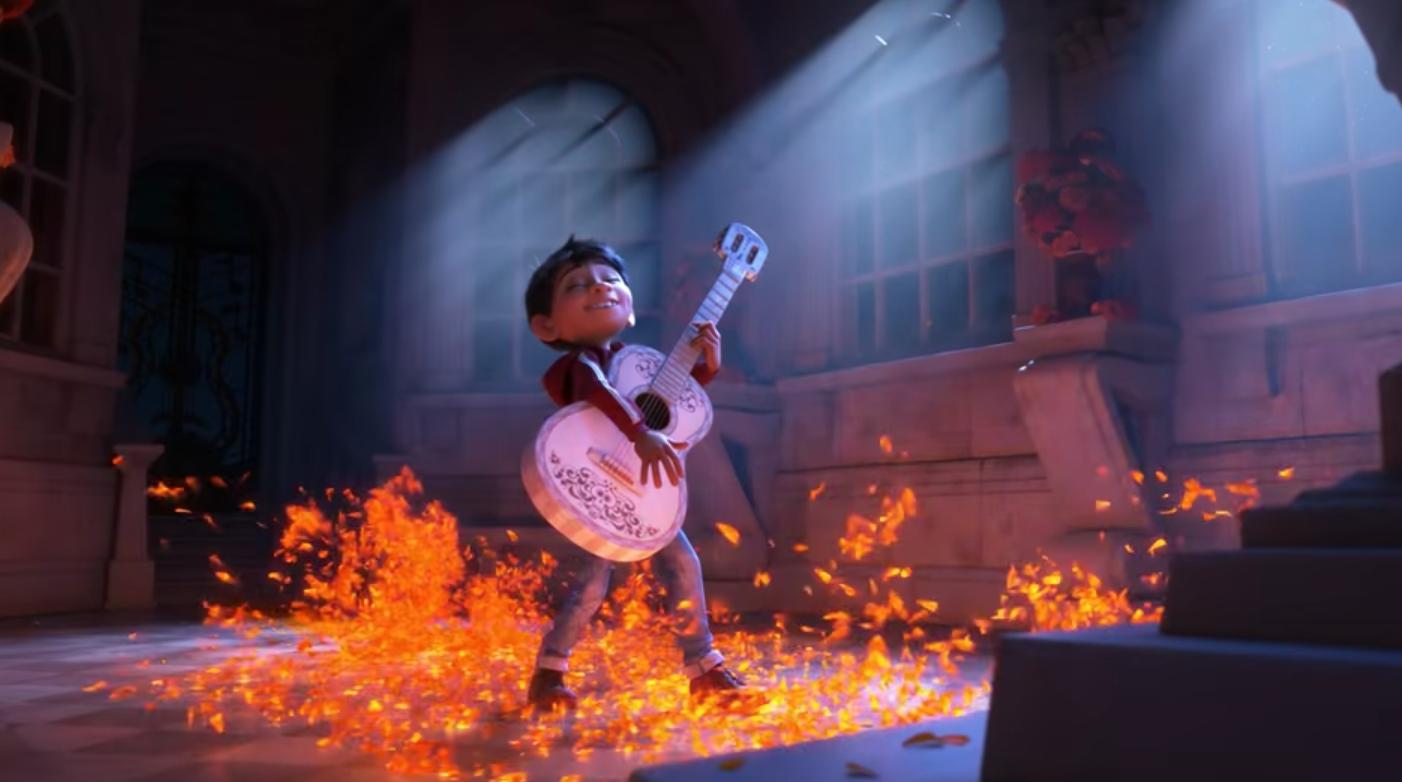 Everybody, young and old,
Desires that their life be told
One day with fondness in past tense.
We think that we must spread our name
And earn our quarter hour of fame
To be remembered decades hence.
We need not awe the world so vain
When others close at hand remain
For us to serve and love instead.
The world may never know, it's true,
How you have lived, but those who do
Are those who matter once we're dead.
___________________
MPAA rating: PG
It's nice to know that in a pretty lackluster year for American animation, Pixar can still come through. Coco was undoubtedly a risky film for the famous studio, their first musical and one delving into another country's culture as none of their past movies have. Even dicier, it threatened to be one of Pixar's least original stories, coming three years after The Book of Life already did the whole Day of the Dead theme in animation. Yet Pixar not only beat the odds but hit them out of the park. (Am I mixing my idioms? Anyway….)
Starting with a prologue explaining why the Rivera family has hated music for generations, Coco introduces us to Miguel Rivera (Anthony Gonzalez) and his extended family of shoemakers, including his rocking chair-bound great-grandmother Coco. Although his Abuelita (grandmother) forbids music of any kind, Miguel is an unashamed fan, particularly of the dead superstar Ernesto de la Cruz (Benjamin Bratt). While the rest of his family celebrates the traditional Mexican holiday of Día de Muertos or the Day of the Dead, the one day their dead relatives can visit them, Miguel's passion for music accidentally transfers him to the Land of the Dead, and, if he doesn't want to become a skeleton himself, he must find a way back before the end of the day, accompanied by a misfit named Héctor (Gael García Bernal).
It's true that Coco isn't the most exceptionally original film in Pixar's canon. It not only reuses some elements of The Book of Life (skeletons in the Land of the Dead, musical aspirations suppressed by the family business) but will certainly remind some of Ratatouille in the way its talented protagonist dreams of emulating his dead idol against the wishes of his stern family. There are echoes of Up as well, but that might go into spoiler territory. Yet from these all too familiar ingredients, Coco still finds ways to enchant, impress, and touch in ways we haven't seen before.
For one thing, Pixar continues to reach new heights in the quality of their CGI animation. From the semi-2D prologue told through traditional Mexican paper cuttings (papel picado) to the glory of the Land of the Dead's fantasy metropolis and its bridge of marigold petals, the level of detail on display is spectacular. I saw Coco with my dad, and it seemed like I heard him whisper "Wow" every ten minutes or so.
Simply put, the animation is flawless, but I was glad to see that the same effort went into the story. It undoubtedly captures the traditions and culture of Mexico (it's now the highest grossing film there), from its exclusively Hispanic cast to the exuberant gritos (the equivalent of a yahoo) to the particulars of celebrating Día de Muertos, yet it backs up that cultural specificity with themes that are universal, especially familial love and devotion. Strengthened by the Oscar-nominated song "Remember Me," the emotions run deep toward the end, and although Pixar didn't bring me to tears this time, I can easily see why many viewers' hearts have melted, especially those who have lost family members.
There are a few points to maybe not object to but at least mention, which run a bit deeper than a  bizarre moment or two. Despite Mexico's Catholic heritage, Día de Muertos does include pagan and mythological elements, and its concept of the afterlife isn't exactly a Christian one. Despite the laudable lesson in both Coco and The Book of Life of remembering those who have died, I don't believe that their existence in the afterlife is dependent on our memory. It's a concept that works well for the story and its fantasy aspects but one that parents should probably discuss with their kids afterward.
That being said, Coco is still a triumph for Pixar, from its funny and poignant moments to its catchy soundtrack (I loved the final song especially). Its twists and turns may be guessable or not, but they do leave an impact. In typical Pixar fashion, it also appeals to kids and adults on different levels. Kids can root for Miguel's love for music, but as they get older, they might pick up more on how an excess of that passion is problematic, putting him in more danger than was necessary. This may not have been intentional, but a couple parts even seemed to comment on the whole Confederate statue debate, offering a little support for both sides of the argument. Or maybe I'm just reading into it, but the point is that you don't find such subtlety and food for thought in the majority of Western animation. It's easily better than The Book of Life, and I'll probably have to update my Top Twelve Pixar Movies now. As much as I'm still miffed at the Academy for spurning A Silent Voice for a Best Animated Feature nomination, I must admit that even if they had, Coco deserves to win.
Best line: (Miguel) "Although you may never forgive him, you should never forget him!"
Rank: List-Worthy
© 2018 S.G. Liput
538 Followers and Counting