Whispered rumors, mocking humor,
Overhearing words of spite,
Talk of blame and guilt and shame,
Made all the worse because they're right—
Oh, to shut such voices out,
Unkindness barely out of sight.
Those with ears, now let them hear,
But if they can't, do words turn rude?
Is absence of respect and love
The norm when barriers are viewed?
Perhaps it's best the deaf don't hear
Unkindness at such amplitude.
Those who fear the scorn they hear
May hide in deafness self-imposed,
Just as those who never chose
Their handicap can feel exposed.
Yet all who rise must recognize
Life's eyes and ears should not be closed.
______________________
MPAA rating for Hear Me: Not Rated (should be PG)
MPAA rating for A Silent Voice: Not Rated (could be PG but probably PG-13)
In honor of  September being Deaf Awareness Month, I thought it appropriate to combine my monthly Blindspot Hear Me as a Cartoon Comparison with the anime film A Silent Voice, both of which are about a relationship between a boy and a young deaf girl. I thought to combine their reviews before I'd even seen them, but now that I have, the truth is that they've got far more differences than similarities. Hear Me is a Taiwanese romantic comedy with the unique distinction of being mostly in sign language, while A Silent Voice is a poignant tale of a bully's emotional journey toward forgiveness, with romance staying on the back burner. (I thought they were both Japanese until I saw Hear Me was from Taiwan.) Yet both do address issues of deaf people and how others relate to them.
I'll start with my Blindspot pick Hear Me, which intrigued me when I heard it was mostly in sign language. That probably won't please anyone who doesn't enjoy subtitles, but it makes for some very unique conversations, some of them quite dramatic yet communicated with only hands and facial expression rather than voice. Eddie Peng (who just appeared this year in The Great Wall) plays Tian Kuo, a delivery boy for his parents' restaurant, who meets a girl named Yang Yang (Ivy Chen) at the public pool while her sister trains for the Deaflympics. Since he knows sign language, he freely converses with her over time, and their relationship goes through some familiar highs and lows, with deafness as a potential complication for their future together.
Let me just say that Hear Me has abundant charm, thanks largely to Eddie Peng, whose goofy, lovestruck antics and faces shine through even without words. There is dialogue too, in Chinese, mainly for the humorous exchanges between Tian Kuo and his bossy mother, but sign language and relative quiet are the rule rather than the exception here. The romance is also refreshingly wholesome, with the most suggestive moment just Tian Kuo seeing Yang Yang's feet while she's changing, which gives him a nosebleed. (It's funny, I've seen that happen in anime, but this suggests that it's something that actually happens to Asian people when they get excited.)
Hear Me actually focuses on the dual relationships of Tian Kuo and Yang Yang, as well as Yang Yang and her deaf sister Xiao Peng (Yanxi Chen). After Tian Kuo offends his crush by disrespecting her meager income, his efforts to win her back may bring to mind John Cusack's desperation in Say Anything, just instead of holding a boom box outside of her window, he dresses as a tree and gives her a coin bank shaped like a bird. Really similar, see? The humor comes from Tian Kuo's side, while Yang Yang and her sister face more dramatic issues, like craving independence despite being deaf. Yang Yang earns all the money, while her sister focuses on competing as a swimmer, but when her performance suffers, Xiao Peng comes to regret and resent her own dependence on her sister, climaxing in an all-hand heart-to-heart between them.
Hear Me makes the most of its unique sign-language dialogue, which serves the story rather than being just a gimmick. I liked how a misunderstanding was cleverly prolonged, as well as the few reminders of Yang Yang's Christianity, since her absent father is said to be a missionary to Africa. It may not be a laugh riot, but there were definitely funny moments, especially a hilariously awkward scene where Tian Kuo's parents sing his praises to his girlfriend. The central relationship also featured several of those heartwarmingly romantic moments that made Hear Me a pleasure to watch.
Now for A Silent Voice, or as its Japanese title Koe no Katachi translates, The Shape of Voice. While it received many accolades, A Silent Voice suffered somewhat from bad timing, being released just a month after last year's mega-hit Your Name in Japan. (Incidentally, both were nominated for Japan's Best Animated Feature Academy Award, but neither one won. That honor went to In This Corner of the World, which I'll get to at some point.)  Whereas Hear Me was a romantic comedy with some moments of drama, A Silent Voice is much more dramatic in its young-adult setting and is bound to make sensitive viewers reach for the tissues more than once.
The film starts with the carefree elementary school life of Shōya Ishida, who is dumbfounded at the arrival of a new student, a girl named Shoko Nishimiya who reveals through writing in her notebook that she cannot hear. While the other students are civil enough at first, the situation quickly devolves into bullying, led by Ishida. These scenes remind you how cruel kids can be and easily make your heart break for Nishimiya, who endures it all with quiet patience, still thinking the best of her classmates. When she finally is forced to change schools, the blame for her departure quickly falls on Ishida, and he takes her place as the class scapegoat and bully target. Fast forward several years to Ishida in high school, and his marginalization has only deepened, even making him consider suicide, until he tries to seek out Nishimiya and make amends.
A Silent Voice makes the uncommon choice of first portraying its main character as a bully, the kind whose maliciousness seems normal to them but traumatic to their target. Yet the same person we dislike from the outset grows into a source of sympathy as he tries desperately to put that childish cruelty behind him. I loved the creative choice of placing X's over the faces of his fellow classmates, marking them as people he has no chance or desire of knowing, as literal "unfriends." These X's become a brilliant way of visualizing Ishida's mental state and his chances of relationships with others; when he lets his guard down, actually noticing and treating someone else as a person or vice versa, the X falls from their face and allows him a chance at a friend.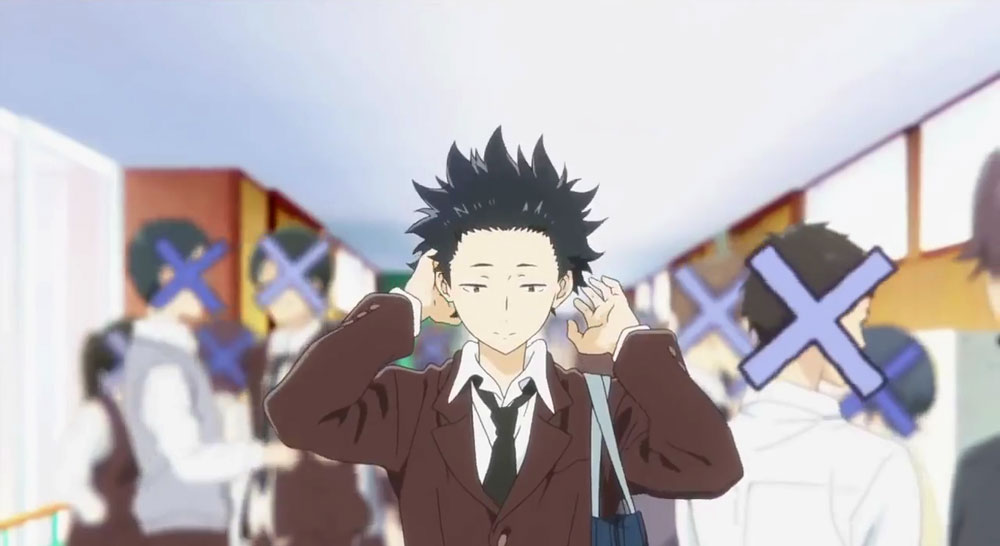 The relationship between Ishida and Nishimiya is touching on multiple levels. They're both broken people with agonizingly low self-esteems, Ishida because he considers his past offenses unforgivable, Nishimiya because she blames herself for any trouble around her and believes she somehow deserves it, always apologizing for everything. It's amazing how easily she seems to accept Ishida after what he did, but it's the mere effort of communicating with her that she values most. Also perceptive are their interactions with the friends they make and how they respond to the bullying: one girl still sees Nishimiya as insincere and worthy of her harassment, while another views herself as completely innocent, even though she watched Nishimiya's persecution and did nothing. These bullying themes and Ishida himself meant much to me because I too have been on both sides; I was picked on by an older classmate for a time and I did the same myself, something I still regret despite it happening only once. Ishida doesn't approach Nishimiya with any set goals of how to make it up to her, but he tries to build the relationships he once helped destroy, something any repentant bully would wish they could do as well.
Kyoto Animation has a reputation for excellence, from the popular Haruhi Suzumiya franchise to the highly anticipated Violet Evergarden, and A Silent Voice is proof of the studio's talents. The animation is painterly with its luminous, pastel palette, and, even if some of the artsy editing makes it unclear at first what just happened in the nonlinear storyline, it looks gorgeous throughout. The abundant use of symbolism and some ambiguous scenes (like the very first and last shots) also make it a film worth analyzing and hearing others analyze. I still consider Your Name the best anime of last year, but A Silent Voice is quite simply a beautiful film that wears its emotions on its sleeve. Anytime it threatens to dip into teen melodrama, it's revived by a sweet moment or heart-tugging conversation. I laughed out loud twice, I actually cried "No!" at one harrowing part, and the final scene gives me tearful chills every time I see it.
Going into these two movies, I really expected them both to be List Runners-Up, as so many movies I've seen recently have been. On its own, Hear Me probably would be a Runner-Up, but A Silent Voice earns its way onto my List and gives me an excuse to add Hear Me as a tie. Both approach their deaf subjects with great sensitivity, stressing that they are relatable people in search of the same relationships we all crave. Hear Me had far more sign language than A Silent Voice, which didn't really bother to translate with subtitles when it was used, but both are excellent features for Deaf Awareness Month and are well worth seeing any other month, for that matter.
Best line from Hear Me: (Tian Kuo's father, of his mother) "She's got a knife for a mouth and tofu for a heart."
Best line from A Silent Voice: (Kawai, a sort-of friend) "Everyone suffers in their life. But it's like that for everyone, right? So you have to love the bad parts of yourself too and move forward."
Rank for both: List-Worthy (tie)
© 2017 S.G. Liput
507 Followers and Counting